Hip and Hot Holiday Gifts With Former MTV VJ Desi Sanchez on Tips on TV Blog
Press Release
•
updated: Nov 15, 2017
Preview of the HIP GIFTS Everyone Will be Talking About From an Artist, Tech Expert, Network TV Host, eSports Reporter and TV Producer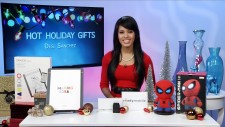 ATLANTA, November 15, 2017 (Newswire.com) - Desi Sanchez is an artist, tech and gaming expert, and TV host. The popular TV host also has a new tech website and has spent her career reporting on new consumer trends, whether it's music, entertainment, or video games. This experience, plus Desi's background as a talented graphic artist, uniquely qualifies her to share the hot new gifts that will be hitting the market this holiday season.
A Must-Have Gift for a Techie
The perfect tech gift, especially for professionals who take a lot of notes, is the new Bamboo Slate. It is great for people who spend their day in meetings or brainstorming new ideas. It is also perfect for salespeople who want to stay focused when meeting with clients. It can help reduce distractions by allowing the user to write with pen and paper and save notes digitally. It is the perfect gift for professionals who want to get focused and organized. The Bamboo Slate also helps save time, because it converts handwriting to text within an app available on smartphones. It even lets the user organize, edit, and share notes and sketches via Dropbox, Evernote or OneNote. The Bamboo Slate is perfect for use in daily life. For more information, visit www.wacom.com.
A Fun Gift for Kids That Will Spark Their Imagination
The technology in toys these days is amazing. The voice interactive Super Hero from Sphero brings Spidey to life. Its amazing features include telling jokes and stories, reacts to the user and others and wake people up in the morning to save the day! Spider-Man Sphero is the perfect Interactive App-Enabled Super Hero companion to keep things entertaining, fun, and adventurous! Built with fully- animated LCD eyes and motion detection, Spider-Man Sphero is ready to chat, fight villains, react to people passing by, serve as an alarm clock, or even guard a room to stop snooping siblings. Any kid would love it. For more information, visit www.sphero.com.
Other Gifts Trending This Year
Something that is always trending is the latest cell phones, and with that new phone or gadget, give the the gift of cell service. A great option is Ready Mobile. They do not require contracts, and they offer plans starting as low as $30 a month. Also, Ready Mobile just launched a distracted driving module called Groove. This is a great option for new drivers and those looking to make sure their loved ones drive safe. Simply plug Groove into the steering column, and all text and data distractions stop before it ever reaches the vehicle. It cannot be ignored, be turned off, or tricked. This is the very first of its kind and exclusive to Ready Mobile. For more information, visit www.readymobile.com.
Contact: tipsontv@gmail.com
Source: Tips on TV
Related Media