Highly Trained Autism Service Dog to Assist Seven-Year-Old Child in Nokomis, Illinois
A seven-year-old boy named Ethan in New Vernon, NJ received a very special, custom trained Autism Service Dog from Service Dogs by Warren Retrievers.
Press Release
-
updated: Jan 8, 2018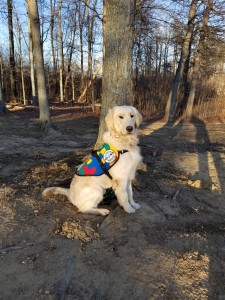 Nokomis, IL, January 8, 2018 (Newswire.com) - Calan, a seven-year-old boy from Nokomis, Illinois, received a very special Autism Service Dog delivery from Service Dogs by Warren Retrievers. Based in Madison, Virginia, Service Dogs by Warren Retrievers, or "SDWR," has a mission to provide specially-bred and trained dogs for adults and children with invisible disabilities like Diabetes, PTSD, Seizure Disorders, or in the case of Calan—Autism Spectrum Disorder. Over the past few years SDWR has experienced amazing growth and in addition to 600 working dogs already placed, there are 400 families enrolled in our program awaiting their dog delivery. What makes SDWR so unique, is that none of the enrolled families ever travel in order to receive their service dog or participate in team training.
Jay, a golden retriever Autism Service Dog, has already received countless hours of training through SDWR's service dog in training raiser program where volunteers raise puppies in training for about a period of one year. The dogs and raisers must follow through the foundation and skill set training provided through SDWR trainers at the facility in Virginia.  
Jay is also a very special graduate of the SDWR Fallen Officer Puppy Program. The Fallen Officer Puppy Program, or "FOPP", is an initiative by SDWR to honor the legacy of American police officers who have sacrificed their lives in the line of duty. Jay is named in honor of fallen Police Officer Major Jay R. Memmelaar, Jr., from Goldsboro Police Department, North Carolina, who suffered a fatal heart attack in February 2017. Jay's Autism Service Dog work with Calan will carry on in memorial of Officer Jay's life of service and sacrifice.
Calan was diagnosed with Autism and the age of 2 years old. Calan was born at term as a healthy baby, but a few hours after birth he started experiencing seizures. He was in the NICU for 5 days and has since outgrown the seizures. Calan is completely non-verbal. New places and experiences often prove difficult for him without experiencing meltdowns. When he becomes anxious, he frequently paces, hums, and chews on his clothes. When he has an idea, he is determined to achieve it. Calan's mother, Lacey, goes on to explain that, "Our son, Calan has severe autism. He becomes very anxious when we go to new places. He also wanders away from home occasionally. He has never gotten too far, but we are always worried someday he will get farther."
Calan's family began their search for an Autism Service Dog in order to provide more tools to cope with Calan's daily difficulties. Jay is equipped to help Calan cope with his daily struggles by providing him comfort and a resource to keep him safe. As a working service dog Jay is trained to help locate Calan when he gets separated and also acts as a stationary ballast in cases of wandering and elopement. Jay will work with Calan and his parents to provide practical and emotional support for issues like anxiety and meltdowns. Since Jay is a service dog and covered under laws in accordance with the Americans with Disabilities Act, he will be able to accompany Calan and his family everywhere such as walks outside, playing at the park, and going for drives with the family. 
SDWR will continue to work with Calan's family and Jay, to train for specific needs they may have. What sets SDWR apart from other non-profit service dog organizations is this highly customized and tailored training program. SDWR trainers will continue to return for training sessions with Calan, his parents and Jay for the next 18 months every 3-4 months to continue developing Jay's skills to best fit their lifestyle and Calan's disability.
Service Dogs by Warren Retrievers is a non-profit organization based in Madison, Virginia, and relies on donations to help the Organization in its mission, "Until the Puzzle's Solved …there's a dog."  To make or donation or learn more about SDWR, please visit the website, http://www.sdwr.org. To learn more about Autism Service Dogs visit http://www.sdwr.org/service-dogs/autism/.  To find SDWR employment opportunities visit http://www.sdwr.org/volunteer-opportunities/.
Source: Service Dogs by Warren Retrievers
Share:
---
Categories: Non Profit, General Interest, Special Needs and Disabilities
Tags: Autism service dog, Dogs for children with autism, service dog for autism, Service dog for autistic child
---