High Voltage Test and Measurement Specialist Joins Kvaser's TA Network
Press Release
•
updated: Apr 30, 2020
Kvaser AB has signed a Technical Associate (TA) agreement with test and measurement specialist Klaric GmbH & Co. KG. The Stuttgart-based manufacturer serves the automotive market with a product portfolio that encompasses current, voltage and temperature measurement modules and sensors for high and low voltage applications, as well as the high voltage breakout boxes for safe measurement in electric and hybrid systems, many of which use CAN for data output and/or configuration.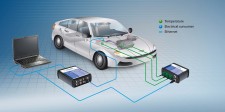 MOLNDAL, Sweden, April 30, 2020 (Newswire.com) - ​​Killian Klaric commented: "With many customers who work with Kvaser interfaces and dataloggers, we have supported Kvaser hardware for a number of years. A closer relationship with Kvaser means we have more confidence with their products and see potential for presenting a total solution to customers, pairing Klaric's measurement modules and Kvaser's dataloggers."
Commented Silvia Küller, Managing Director of Kvaser Europe: "The measurement and validation of electrical components is a key phase within the development and test of any vehicle, determining its overall reliability and efficiency. When it comes to high voltage or EV applications, Klaric's range of capable and Kvaser-compatible tools is highly complementary to our existing partner network."
One of Klaric's latest products is an EV charge-monitor, used to validate the charging process for electric or hybrid vehicles. Capable of measuring current and voltage in both AC and DC, the system can be used for vehicle certification, emissions testing and energy management R&D, among other things. With up to three CAN bus outputs (all high-speed), the Kvaser Memorator Pro 5xHS is a particularly good fit.
About Kvaser: Kvaser is a world-leading CAN development company. We provide advanced CAN solutions to engineers designing and deploying systems in areas as wide-ranging as transportation (including electric vehicles), industrial automation, avionics, construction equipment, building automation, domestic appliances, marine, medical, military, railway, telecoms, textiles and more.
Kvaser is headquartered in Molndal, Sweden, with regional offices in Mission Viejo, CA in the United States, and in Shanghai, China. Kvaser AB also has a global network of highly knowledgeable Qualified Resellers and Technical Associates. To find the nearest Kvaser supplier to you, please visit https://www.kvaser.com/products-services/where-to-buy/.
More information is available at www.kvaser.com.
About Klaric: Founded in 1992, Klaric provides precision measurement and inspection technology to the automotive sector. Klaric's instrument portfolio measures current, voltage and temperature rapidly, accurately and across a wide range over all measuring ranges, transmitting data via CAN or Ethernet (XCP-on-Ethernet or KlaricServer). With permanent galvanic isolation up to 1500 V DC, Klaric products allow the user safe measurement of current, voltage and temperature in electric and hybrid vehicles.
More information is available at https://www.klaric.de/en/.
For media enquiries, please contact:
Jesse Paliotto, Director of Marketing at Kvaser AB
Tel: 001 949 236 4620
Email: jp@kvaser.com
Vanessa Knivett, Kvaser Media Relations
Tel: 0033 (0) 618 609 287
Email: vk@kvaser.com
Source: Kvaser AB
Related Media