High-Speed Synchronization of Files, Folders, and Hard Disks With Synchredible — ASCOMP Releases Version 7.1
Press Release
•
updated: Jun 29, 2021
Synchredible 7.1 for Windows offers a contemporary and clear answer to the question of data backup and can be used both in private and professional environments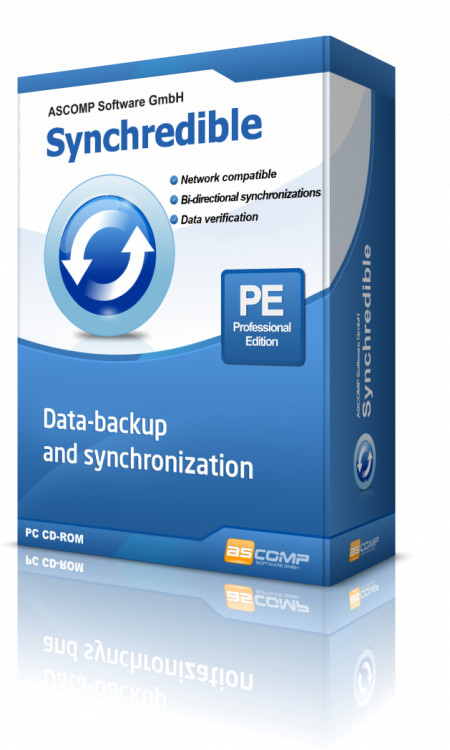 LEONBERG, Germany, June 29, 2021 (Newswire.com) - Advancing digitalization enables more and more people to take advantage of increased flexibility when it comes to shaping their everyday work. However, this new possibility brings with it new challenges. Just as crucial as choosing the right work environment is the selection of software solutions that support both location and time-independent work and react to the changing work structures in this evolving world.
Meeting this brief is a solution provided by ASCOMP Software from Germany. It answers the current questions circulating relating to data backup with the new version of its Windows software Synchredible 7.1. As most people know, if they work on several devices or use different removable media, they should always keep their data up to date.
Automatically back up and synchronize data
With Synchredible, files, folders, and hard drives can be automatically and securely synchronized between Windows-based devices such as PCs, notebooks, tablets, USB sticks and other mobile data carriers. Cloud storage such as Dropbox, Google Drive, OneDrive and Magenta Cloud are also supported in the one- or two-sided comparison of the data.
Thanks to a large number of user settings, orders can be executed in a time-controlled way, for example, when changing a file or when connecting the corresponding external data carrier. In this way, the data sets will be kept fully in sync automatically.
The software automatically recognizes changes and synchronizes the last edited file. The unchanged data is skipped and, therefore, extensive data sets are processed within a very short time.
Optimized user interface of Synchredible 7.1
With Synchredible 7.1, ASCOMP is now releasing a version that is also optimized for people with visual impairments. Thanks to its user-oriented interface, the multitude of functions and settings are even clearer and the synchronization of data is even easier. So, all files, folders, and drives on all devices can easily remain on the same level.
"Our goal is to provide even the less-experienced users with solutions for complex, recurring tasks. That's why we make sure our applications are intuitive and easy to understand and use," says Andreas Stroebel, Managing Director of ASCOMP Software.
Synchredible 7.1 offers a contemporary and clear answer to the question of data backup and can be used both in private and professional environments.
The software supports all major Windows versions, both in the 32- and extended 64-bit versions, and can be downloaded free of charge for private use at www.synchredible.com. The paid version (from $39.90 USD) is ad-free and also comes with technical support.
Source: ASCOMP Software