High-End Rakxe Electric Bikes Designed With Fashion Gene
Rakxe Electric is manufacturing high-end and fashionable electric bikes, not only practical, but also attractive, leading the green future.
Press Release
-
updated: Nov 6, 2017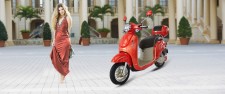 LOS ANGELES, November 6, 2017 (Newswire.com) - Established in 2001, with nearly two decades of development, Rakxe Electric Co., Ltd. has become a leading brand in environmentally-friendly two-wheel vehicles which are widely popular in China. Rakxe devotes itself to design, research, development, manufacturing and sale of environmentally-friendly two-wheel vehicles (E-scooters & E-bikes). The company has adopted high-quality positioning strategies to build a high-quality brand. 
The headquarters are located in Hangzhou, Zhejiang province. Rakxe builds its product bases in Taizhou, Wuxi, Tianjin and Guangdong. Since July 30, 2017, 1,951 distributors and their subordinates have worked together to sell the products through offline and online networks in China. According to statistics, the comany's customers extend to more than 60 countries in a wide sales network. Rakxe is also the leading company in the export of two-wheel vehicles, according to statistics from Chinese customs.
Rakxe is proposing "high-quality manufacturing strategies," which includes "high-quality design, technology, quality & service" and global exporting.
Best Design
Rakxe invites world-famous design companies from Europe to assist in developing new high-quality two-wheel vehicles so as to ensure that the company continues to be the leader in the industry by further enhancing quality and improving its brand reputation.
High-end Technology
Rakxe is cooperating with BOSCH, SAMSUNG, BAFANG and TIANNENG etc. to establish a strategic cooperate protocol to study and develop high-end products. The company has 518 patents, including 19 patents for invention, 197 patents for innovation, 285 patents for design, and 86 patents applied to get the approval. A national enterprise lab, approved by CNAS, was built. Rakxe will continue to invest in scientific research so as to make breakthroughs and innovations in power, energy, smart, security system and customer-friendly technology.
Best Quality
Rakxe strictly controls product quality by adopting a high standard for spare parts and quality inspection systems so as to become the leading sales in advanced E-scooters & E-bikes for 10 years in a row.
Precise Manufacturing
We are gradually realizing Five Advances in manufacturing: digital manufacturing management, smart manufacturing technology, manufacturing process automation, products research and development modularization and quality management whole-staff participation.
Best Service
Rakxe spares no effort to promote the establishment of 4S after-sale service shops which provide 20 free services. With the construction of systemization and experienced service, and the promotion of after- service quality, we became the first to win 5-star service enterprise.
More Exports
Rakxe will strengthen its international exports and the development of its international image. We have exported our products to 66 regions and countries such as the USA, Europe and the Middle East. We continue to raise quality and performance by strengthening our strategic cooperation with global leading technology companies, including BOSCH and SAMSUNG in order to maintain high-end global reputation.
With the principle of "High-end Strategy," Rakxe will produce more personalized products so as to build a "more advanced E-scooters & E-bikes" brand, and create a green lifestyle for our global E-scooters & E-bikes customers. More detailed specifications and pictures are available at www.rakxe.com.
Source: Rakxe
Share:
---
Categories: Automotive, Green Industries, Transportation
Tags: E- Motorcycles, E-Bicycles, E-Bikes, E-Scooters, E-Self Balancing Scooters, Electric Bikes, Electric Scooters, Electric Vehicles, Self Balancing Scooters
---