High-Concept Löv Air Purifier Marries Danish Design and Korean Engineering
The Löv air purifier is an air- and space-saving creation by KOMMA, Inc, based in the Republic of Korea. The Löv air purifier, featuring three filters, integrates high-concept Danish design and Korean engineering. Available in four positions as a standing or a wall-mounted air purifier, Löv is only 3.1 inches thick and can change vertically and horizontally as well. It is now available for a 40% Super Early Bird Promotion during the launch of the Kickstarter campaign. (https://bit.ly/38KaigV)
Press Release
-
updated: Jul 15, 2020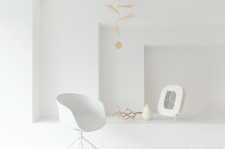 SEONGNAM-SI, South Korea, July 15, 2020 (Newswire.com) - With human beings spending more time than ever indoors, it is important not only that the air we breathe is clean, but that we can take comfort from our indoor spaces. Now there is the Löv air purifier, a high-performance, high-style option lovingly crafted by the Danish designers and Korean engineers at KOMMA, Inc. A limited quantity of the Löv air purifier is now available for a 40% Super Early Bird Promotion during the launch of the Kickstarter campaign.
Featuring a HEPA filter, adjustable positioning, and only 8cm of thickness, the Löv air purifier has a pre-filter and a carbon filter so as to promote the elimination of hazardous substances. Available in four positions as a standing or a wall-mounted air purifier, the Löv expels 25 single cubic meter boxes of clean air in only 10 minutes. Its sophisticated sensor measures fine particles and then displays the concentration of those particles in varying colors.
The Löv air purifier...a new way to style your space.
The creators of the Löv air purifier drew inspiration from nature, specifically from the forest, gathering ideas from renowned masters in furniture design and architecture. The KOMMA team designers sought to go beyond existing mechanical-looking air filters and reached for something inspiring.
The Löv air purifier, rooted in Nordic design, was brought to life by working with partners from companies like Samsung and LG. Over 28 months, 180 lab tests, and 35 blade simulations, the team of designers and engineers finetuned the Löv air purifier through 5 iterations until they got it just right.
The Löv air purifier is a new concept in air filtration—the marriage of style and function. To achieve this, the creators spent countless hours at interior design showrooms, exhibitions, and the homes of consumers. In the process, they gathered insight about maintaining the personality of a space and crafting an air purifier that would adjust with the space.
About the Löv air purifier
The Löv air purifier is an air- and space-saving creation by KOMMA, based in the Republic of Korea. The Löv air purifier, featuring three filters, integrates high-concept Danish design and Korean engineering. Available in four positions as a standing or a wall-mounted air purifier, Löv is only 3.1 inches thick and can change vertically and horizontally as well. It is now available for a 40% Super Early Bird Promotion during the launch of the Kickstarter campaign. Please visit: https://bit.ly/38KaigV
Source: KOMMA
Share:
---
Categories: Home Appliances
Tags: best air purifier, best air purifier 2020, hepa air purifier, Komma, lov, Lov air purifier- Komma, Lov Kickstarter campaign, pet hair air purifier, quiet air purifier, stylish air purifier, Wall-mounted air purifier
---