Hidden Level and Saab Continue UAS Research Work With the FAA
Press Release
•
Jan 17, 2023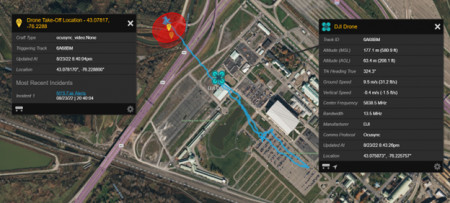 SYRACUSE, N.Y., January 17, 2023 (Newswire.com) - Hidden Level, Inc. continues to support the FAA's Airport Unmanned Aircraft Systems (UAS) Detection and Mitigation Research Program, both independently and as a partner to Saab, Inc. Efforts in this area began in 2018 when the FAA Reauthorization Act was signed into law Oct. 5, 2018. The act extends FAA's funding and authorities through Fiscal Year 2023 and includes important legislative changes related to increasing the safety and pace of UAS integration.
The FAA first announced an effort to test and evaluate technologies and systems that could detect and mitigate potential safety risks posed by unmanned aircraft at and near airports in August of 2020. Five airports were selected for participation in the testing program, including Syracuse Hancock International Airport.
Hidden Level deployed its Airspace Monitoring Service for evaluation as a standalone solution as well as a complementary technology to Saab's SAFE Airport Event Management system in the spring of 2022. The FAA's UAS detection and mitigation research is expected to continue through 2023. The results from this testing and evaluation effort will be used to assist with planning for certifying, permitting, or authorizing UAS detection and mitigation technologies at airports around the country.
"There has been a dramatic increase in the number of drone threats, many of these at airports. We are honored to participate in this crucial research program to provide additional tools to keep the National Airspace System safe," says Jeff Cole, Hidden Level CEO. "Airspace Monitoring Service is a scalable solution for major airports considering drone security."
Hidden Level's Airspace Monitoring Service (AMS) offers an additional level of situational awareness, providing a very robust surveillance picture. Using passive RF technology, sensors interpret a 3D location, classification, and other identifiers to provide UAS and operator geolocation data. With drone surveillance integration, airport operators can manage drone threats in the same way they manage other high-impact events at their airport.
Hidden Level and Saab are both headquartered in Syracuse, NY. The UAS research being done at Syracuse Hancock International Airport is a great example of how Central New York has become one of the premier UAS technology hubs in the world.
ABOUT SAAB, INC.
Saab is a leading defense and security company with an enduring mission, to help nations keep their people and society safe. Empowered by its 18,000 talented people, Saab constantly pushes the boundaries of technology to create a safer, more sustainable, and more equitable world. Saab designs, manufactures, and maintains advanced systems in aeronautics, weapons, command and control, sensors, and underwater systems.
Saab, Inc. is a U.S.-based wholly owned subsidiary, delivering advanced technology and systems, supporting the U.S. Armed Forces and the Federal Aviation Administration, as well as international and commercial partners. Headquartered in Syracuse, New York, the company has business units and local employees in six U.S. locations.
ABOUT HIDDEN LEVEL
Founded in 2018, Hidden Level is led by a team of skilled sensor experts with more than a decade of experience building innovative sensor solutions for both military and commercial customers. Hidden Level's airspace monitoring service delivers the only industry solution that provides secure, accurate low-altitude airspace monitoring at scale. By eliminating the burden of owning, operating, and maintaining expensive and rapidly changing sensor technology equipment, Hidden Level provides its customers only what is necessary—real-time, actionable data at a fraction of the cost.
Source: Hidden Level
Related Media