Hicks Nurseries Helps Gardeners Go Greener
Press Release
•
Apr 21, 2022
Free Consumer Plastic Recycling Program Runs May 14 - July 17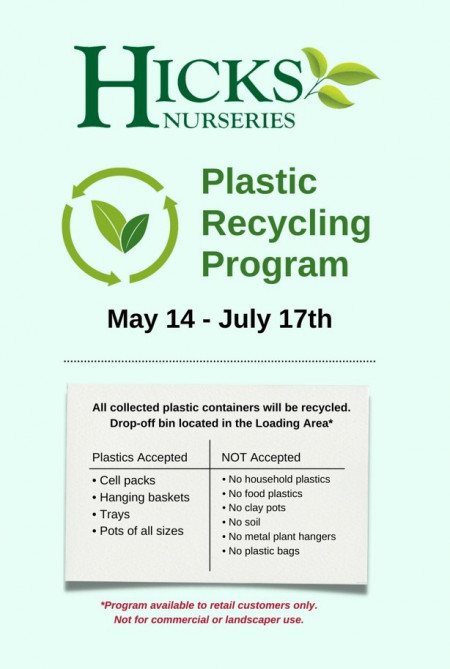 WESTBURY, N.Y., April 21, 2022 (Newswire.com) - Hicks Nurseries, Long Island's largest and premier garden center, will help gardeners go greener again this year with its annual free plastic recycling program from May 14 to July 17. Since the program started in 2009, over 51,840 cubic feet of plastic garden waste have been collected and recycled.
"Our plastic recycling program speaks to our commitment to the planet, keeping as many of these products out of landfills as possible," said Stephen Hicks, president of Hicks Nurseries, Inc. "It also gives us the opportunity to provide an easy recycling solution for our customers during the busiest planting season of the year."
Home gardeners are encouraged to bring their plastic pots, cell packs and trays to be recycled. Hicks Nurseries' specifications for recyclables before dropping them into the recycling bin include:
Sort plastic garden pots, cell packs and trays
Shake out all soil and rocks from containers
Remove metal hangers, rings or other foreign materials
Only garden plastics will be accepted. No household plastics, no food plastics, no clay pots, no soil, no metal plant hangers and no plastic bags are permitted.
Hicks Nurseries Plastic Recycling Program is only open to retail customers and the public. It is not for commercial or landscaper use. The drop-off bin is located at Hicks Nurseries' Customer Pick-up/Loading Area at 100 Jericho Turnpike in Westbury, New York.
ABOUT HICKS NURSERIES
Hicks Nurseries is Long Island's largest and premier garden center, family-owned and operated since 1853. Dedicated to helping its customers achieve their goals easily and stress-free, Hicks Nurseries provides an exceptional selection of quality products including indoor and outdoor plants, patio furniture, garden accents and planters, lawn care, seasonal decor and more. They also offer complete landscape design/build services and expert advice to make gardening successful and enjoyable for everyone. Hicks Nurseries is conveniently located at 100 Jericho Turnpike in Westbury, NY. To learn more, visit https://hicksnurseries.com/
CONTACT: Eleni Roselli, Hicks Nurseries, 516-334-0066, eroselli@hicksnurseries.com
###
Source: Hicks Nurseries Inc.