Hicks Nurseries' 33rd Annual Flower & Garden Show Opens March 9
Press Release
•
Feb 13, 2023
"A Novel Approach" to Garden Design | Free Parking & Admission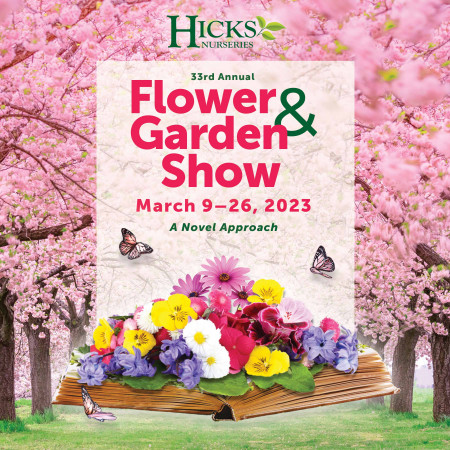 WESTBURY, N.Y., February 13, 2023 (Newswire.com) - Hicks Nurseries, Long Island's largest and premier garden center, will host its 33rd annual Flower & Garden Show March 9-26. The show titled "A Novel Approach" takes its inspiration from popular book genres and conveys the power of storytelling authored by the beauty of nature.
Attendees at Hicks Nurseries' highly anticipated Flower & Garden Show will discover a little piece of literature as they stroll through each of the eight expertly designed gardens. Genres explored include fantasy, romance, western adventure, travel through time and space, history, mystery, and more. Written in flowers, spelled out in shrubs, and told in trees, the gardens tell rich stories that captivate and open imaginations to new possibilities.
"Our annual Flower & Garden Show is a magnificent display of inspirational spring gardens in full bloom," said Ken Muellers, Senior Landscape Designer at Hicks Landscapes. "The meticulous planning begins almost a year in advance with each of the gardens designed by a member of our award-winning landscape design team."
This year's show will be the biggest ever in a newly expanded 20,000-sq.-ft. greenhouse. The production includes over 5,000 plants and 350 different varieties. In order to showcase flowering plants, Hicks forces them to bloom in heated greenhouses. Forcing is both an art and science that is guided by years of experience. Thus, no matter what the weather is like outside, it will be spring in full bloom at Hicks Nurseries during the Flower & Garden Show. The show is open every day, March 9-26, from 8 am-6 pm. Free parking and free admission.
For updates and more information, visit https://hicksnurseries.com/flower-garden-show-2023/ and social media @hicksnurseries.
ABOUT HICKS NURSERIES
Hicks Nurseries is Long Island's largest and premier garden center, family-owned and operated since 1853. Dedicated to helping its customers achieve success in their homes and gardens, Hicks Nurseries provides expert and friendly advice along with an exceptional selection of quality products, including indoor and outdoor plants, outdoor furniture, planters, lawn care, seasonal décor including artificial Christmas trees and more. They also offer complete award-winning landscape design/build services. Hicks Nurseries is located at 100 Jericho Turnpike in Westbury, NY. Follow on social media @hicksnurseries and learn more at https://hicksnurseries.com/
Source: Hicks Nurseries Inc.