Hi-Speed Corporation, Top West Coast Tooling Representative, to Offer Better Performance and Value for Aerospace Manufacturers Joins the Fast Growing YG-1 Family
Press Release
•
updated: Feb 28, 2018
After Representing WIDIA-Hanita For More Than 25 Years, Hi-Speed Corporation has made the decision to make an important change and will now partner with the dynamic and expanding YG-1 cutting tool company.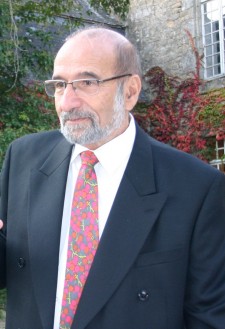 LOS ANGELES, February 28, 2018 (Newswire.com) - Aerospace veteran, President and Founder of Hi-Speed Corporation, a top manufacturer's representative to the aerospace market, Jonathan Saada, today announced his decision to represent high-performance tool manufacturer YG-1. This decision comes after representing Widia-Hanita for more than 25 years. According to Mr. Saada, the decision was clear after analyzing the performance, breadth, and value of the YG-1 product portfolio. "Based on the superior equipment they have, their technology, their efficiency in manufacturing, and exceptional customer service, YG-1 offers the best choice in performance and value today. That's why we decided to be proactive with this decision — for our customers and distributor partners. We have a team of ten experienced professionals and we are eager to support the existing network of YG-1 distributors with the goal of growing YG-1 sales on the west coast."
"We are very excited to welcome Hi-Speed Corporation to the YG-1 family," said Brian Rabe, CEO of North America for YG-1. "Their expertise and connections in the aerospace industry will create a perfect synergy that will accelerate growth of YG-1 products in the Aerospace segment."
"We are very excited to welcome Hi-Speed Corporation to the YG-1 family. Their expertise and connections in the aerospace industry will create a perfect synergy that will accelerate growth of YG-1 products in the Aerospace segment.

Brian Rabe, CEO YG-1 North America
"We are thrilled to be part of the YG-1 family. I have known Mr. Song, the Chairman of YG-1, for 35 years and know that with his focus on aerospace, success will happen quickly. And since Hi-Speed Corporation has become a recognized name in that industry, our immediate goal is to turn YG-1 into the leader in this segment. YG-1 is incredibly agile as a company when it comes to new product development and enhanced customer service. They understand the importance of moving quickly to satisfy the needs of our distributors and end-user customers which is why they are extremely easy to do business with," said Mr. Saada.
Mr. Rabe added, "As a team, YG-1, Hi-Speed and our distribution partners will work together to bring tremendous value to our customers through industry-leading products and exceptional support services. With the shared goal of making YG-1 the first choice in aerospace machining solutions and the world's leading full-line supplier of cutting tools, this relationship will help us meet our objectives quickly."
The South Korea based YG-1 Company started 35 years ago when their founder and Chairman, Mr. Hokeun Song started the business with a few grinding machines in a very small shop. Today YG-1 has grown to be one of the largest milling, hole making, tapping and turning product manufacturers in the world, employing 5,000 people with 28 factories worldwide including manufacturing and distribution facilities in the United States.
About Hi Speed Corp
For 25 years and running, aerospace and manufacturing firms across the western United States have trusted Hi-Speed Corporation to supply them with world's leading metal cutting technologies. Through the wide range of milling, turning, hole making and tapping tools, Hi-Speed Corporation has become a premier west coast manufacturer representative agency. Our team of ten people has considerable experience in helping customers solve complex machining challenges, improve productivity and lower manufacturing costs. In addition to California, where our headquarters is located, we also cover Washington, Oregon, Arizona and Nevada.
About YG-1
YG-1 has been committed to quality, innovation and a unique customer experience since 1982. As a full-line cutting tool supplier, YG-1 is dedicated to supplying and satisfying industries worldwide with its growing portfolio of high-performance products. Adhering to rigorous quality inspection standards, YG-1 has built a reputation for providing the highest quality products and services to each industry and customer we serve. It is this performance and dedication that has earned YG-1 the position as a leading manufacturer of high-performance cutting tools. Our global footprint expands over 75 countries, with international logistic centers providing our customers with the best service available today and tomorrow.
TOGETHER
The partnership of YG-1 and the Hi-Speed Corp will combine some of the best aerospace knowledge and support with the best family-run cutting tool manufacturer available. The result will give aerospace manufacturers and distributors a strong competitive advantage in today's very competitive aerospace market.
# # #
Source: Hi-Speed Corporation
Related Media
Additional Links