HGTV® Contractor Chip Wade Answers Top Home Winterization and Storm Questions
Press Release
•
updated: Dec 14, 2017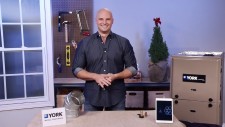 MILWAUKEE, December 14, 2017 (Newswire.com) - ​​Cooler days and longer nights are here. Is your home winter-ready? Here are some of the top questions homeowners ask Chip Wade, best known as the Emmy-winning host of Elbow Room, Curb Appeal: The Block and several other HGTV® shows.
Q: What is the first step we should take with our home as the weather gets cooler?
A: Winterize now. Winterization is about looking at the outer envelope of the house – the roof, the walls, the doors and windows; it's all about stopping airflow from the outside in and inside out. To do that, things like caulking cracks, installing new weather stripping and making sure your doors and windows are in great working order are the first steps.
Q: How do I know if it's time to replace my furnace or if I need to continue spending money on repairs?
A: The simple answer is, if your furnace is at least 10 years old or older, or if you have had a couple years in a row where you've had some repairs that exceed a few hundred dollars, it's going to be in your best financial interest to go ahead and replace that system. New units in the market are so incredibly energy efficient that the money you save on utility bills will help recoup your investment in a new unit faster than you think. Some of the units available today are extremely energy efficient thanks to things like modulating burners, which control the flame to a precise level, saving energy and reducing your utility bill. One example is the YORK®Affinity™ Modulating Gas Furnace from Johnson Controls, which includes efficiency and connectivity features that connect the furnace to a smart thermostat and apps, allowing you to control your system even when you're away from the house.
Q: For homeowners who face extreme weather (blizzards or flooding after snowfall, for example), how do they know what to replace and what not to replace?
A: This is a question that arises not just during the winter, but throughout the year. Think about the extreme weather people faced with the hurricanes and flooding in Florida, Texas and Georgia, for example. In those cases, I'll focus on things like drywall, carpet – these things need to go. But, when it comes to central heating and air, a lot of people are wondering – do I replace my furnace or not? The real delineating factor is whether the unit has been submerged in water or subjected to standing water. In either case, it most likely will be more cost effective to replace the unit rather than repair it. To help those folks out, YORK® offers a rebate program at www.YORK.com/hurricane-rebates. People living in the Texas FEMA Disaster Area (DR-4332), Florida FEMA Disaster Area (DR-4337) and Georgia FEMA Disaster Area (DR-4338) are eligible for the program, which can be applied to specified YORK or Guardian® products.
But, ultimately, if you have questions, contact your local YORK contractor. To find a heating and cooling contractor or to learn more about YORK, visit www.YORK.com/furnace. Also follow @yorkhomecomfort on YouTube, Instagram and Facebook and @YORKHVAC on Twitter.
About Johnson Controls
Johnson Controls is a global diversified technology and multi-industrial leader serving a wide range of customers in more than 150 countries. Our 120,000 employees create intelligent buildings, efficient energy solutions, integrated infrastructure and next generation transportation systems that work seamlessly together to deliver on the promise of smart cities and communities. Our commitment to sustainability dates back to our roots in 1885, with the invention of the first electric room thermostat. We are committed to helping our customers win and creating greater value for all of our stakeholders through strategic focus on our buildings and energy growth platforms. For additional information, please visit http://www.johnsoncontrols.com or follow us @johnsoncontrols on Twitter.
CONTACT:
Ryan Nolan
Global Public Relations Program Manager
Building Technologies & Solutions, Johnson Controls
Work + 1 414 524 6170
Mobile + 1 414 378 9641
Ryan.P.Nolan@jci.com
Source: Chip Wade
Related Media