Hexnode Integrates With Zendesk for Easier Management Along With Ticket Handling
Press Release
•
updated: Dec 19, 2017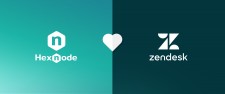 WALNUT, Calif., December 19, 2017 (Newswire.com) - The global Mobile Device Management solution, Hexnode MDM has announced its integration with Zendesk Inc.'s leading customer service platform – Zendesk Support. The Hexnode MDM plugin that is available in the Zendesk Marketplace will allow the Zendesk Support admin to perform the MDM actions right from the support platform.
"Zendesk is a widely used customer service platform all over the world. The integration with Zendesk will only benefit the users because what we did, just made things three times faster. Now any IT admin with Zendesk Support and Hexnode MDM can manage their users' devices from the Support console itself," said Vipin Govind, Senior Software Analyst at Mitsogo Inc.
The Hexnode MDM plugin for Zendesk Support is currently available in the Zendesk Marketplace. When the plugin is installed to the support console, it will fetch all the device details of the user when they raise a ticket. Every device owned by that user will be listed and the admin can perform device management actions like wipe, lock, disenroll, scan, location scan, clear passcode and enable lost mode. The advantage of this integration is the ease of management itself. Since Zendesk is a popular choice among organizations, the Hexnode MDM users who belong to that category will find the integration very useful.
About Zendesk Inc.: Zendesk builds software for better customer relationships. It empowers organizations to improve customer engagement and better understand their customers. Approximately 114,000 paid customer accounts in over 160 countries and territories use Zendesk products. Based in San Francisco, Zendesk has operations in the United States, Europe, Asia, Australia, and South America. Learn more at www.zendesk.com.
About Mitsogo Inc.: Mitsogo Inc. is a trusted provider of Enterprise Mobility Solution under the brand Hexnode. The MDM offers application management, security management, email management, kiosk management etc. along with device management. Hexnode MDM has found its way to all kinds of business sectors such as education, health care, transportation and even in high security government fields all over the world. The clutter-less UI and simplified workflow are what makes the solution more efficient and preferable.
For more information, visit www.hexnode.com.
Source: Hexnode