HexaBuild 2019 IPv6 Adoption Report Released
Press Release
-
updated: Aug 27, 2019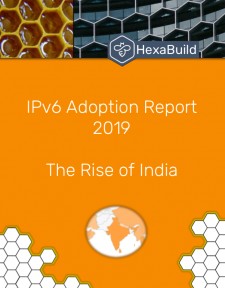 PHOENIX, August 27, 2019 (Newswire.com) - HexaBuild has released their updated IPv6 Adoption Report for 2019. This year the team observed a significant increase of IPv6 adoption in a particular region, enough to spotlight the significant growth and the rise of India. Some countries through necessity or competitive advantage are taking IPv6 serious and the data reflects those efforts.
"IPv6 has become the dominant protocol of the Internet and there is no other alternative. Organizations that choose to do nothing and stay on legacy IPv4 networks will run into future performance and feature limitations at some point. These network transformations take careful planning, training and time. From our years of IPv6 advocacy and experience, expecting to just flip a switch is not recommended or feasible," says Scott Hogg, CTO & Co-Founder of HexaBuild.
The report covers global trends in IPv6, details about adoption rates at current ISPs, wireless providers, web and content providers as well as similar data for enterprise networks. The report is an aggregate of data available from diverse sources, including websites that specifically collect and track information about IPv6 adoption, performance, and trends. This information is collected and compiled in this report to make it easier for technology executives and decision-makers to review it. It also shows that many organizations are observing the same growth in IPv6, even though each of these sources observes the Internet from their own perspective.
"There is a lot of good news. We are starting to see our channel partners incorporate IPv6 professional services and training offers into their mature networking practices. Advancements in Cloud, Security, IoT, SDN and SD WAN all present unique opportunities for partners and clients to deploy IPv6 with a fresh start and different approach," said Steve Rogers, HexaBuild's President and COO.
Visit our website to review the various services and solutions we provide and download your copy of the HexaBuild 2019 IPv6 Adoption Report today!
Source: HexaBuild, Inc.
Share:
---
Categories: Cloud computing
Tags: Adoption, Channel Enablement, Consulting, Education, HexaBuild, IPv6, Launch, Networking, Released, Report, Training
---