HexaBuild 2018 IPv6 Adoption Report Released
Press Release
-
updated: Jun 6, 2018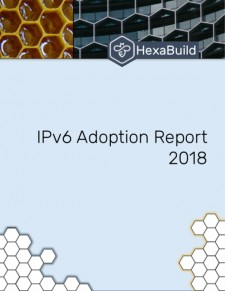 Phoenix, AZ, June 6, 2018 (Newswire.com) - HexaBuild has released its first IPv6 Adoption Report on the sixth anniversary of World IPv6 Launch. This commemorates the anniversary of the day when many of the world's largest content providers permanently enabled IPv6 and when many service providers and equipment manufacturers formally pledged their support for IPv6.  Since that day, IPv6 adoption has grown substantially.
The report covers global trends in IPv6, details about adoption rates at current ISPs, wireless providers, web and content providers as well as similar data for enterprise networks. The report is an aggregate of data available from diverse sources, including websites that specifically collect and track information about IPv6 adoption, performance, and trends. 
This information is collected and compiled in this report to make it easier for technology executives and decision makers to review it.  It also shows that many organizations are observing the same growth in IPv6, even though each of these sources observes the Internet from their own perspective.  
"This purposeful compilation of statistics corroborates each other and reinforce the conclusion that IPv6 adoption has increased significantly in the recent six years.", says Tom Coffeen, Co-Founder of HexaBuild and former IPv6 evangelist at Infoblox.
The report starts with global IPv6 trends and then breaks down into data specific to service providers, content providers and finally enterprises.  Although many of the graphs show "hockey-stick" trends, there is still much work to do in the area of IPv6.  For example, many commercial enterprises still lack IPv6 connectivity at their Internet perimeters and they don't have any IPv6 network connectivity in their private networks.
This is even more troublesome when much of the reseller and system integrator channel that provides expertise and support for commercial enterprises have not been properly prepared to address the demand or challenges. "We like to quote Alan Lakein when he said "failing to plan is planning to fail" so now is the time for enterprises and the industry that supports them to charge forward with IPv6" said Steve Rogers, HexaBuild's President and COO. "This is exactly why HexaBuild was established. To advance Cloud, IoT and Security and drive worldwide IPv6 adoption through training, channel enablement and consulting."
Visit our website to review the various services and solutions we provide and download your copy of the HexaBuild 2018 IPv6 Adoption Report today!
Source: HexaBuild, Inc.
Share:
---
Categories: Networking
Tags: Adoption, Channel Enablement, Consulting, Education, HexaBuild, IPv6, Launch, Networking, Released, Report, Training
---