Herban Planet Launches 'Space Weed Bro' Marijuana Into Space
"Space Weed Bro" Boldly Goes Where No Weed Has Gone Before
Press Release
-
updated: Oct 3, 2017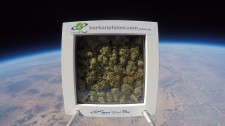 PHOENIX, October 3, 2017 (Newswire.com) - Herban Planet made intergalactic history by launching one pound of marijuana flower, "Space Weed Bro," 35 KM above the Earth's surface into space. The space vessel, a clear cube containing the duly-named "Space Weed Bro," was attached to a weather balloon with GPS tracking and was retrieved after descending back down to the Arizona desert. Recovery was quite the adventure as it could only be calculated approximately where it would land. The entire event was documented from various angles using cameras attached to the vessel as well as drones and an on-the-ground video crew. The craft attained an altitude of approximately 118,000 feet where the temperature was -94º below zero. As it returned to earth, it reached a velocity of over 240 mph.
Highlights of the actual launch and entry into space as well as the recovery can be viewed at by visiting this link.
About Space Weed Bro 
Space Weed Bro is a wholly-owned licensing company of Herban Planet, the ultimate guide to the cannabis universe.  From dispensaries, growers and business services, to green doctors, education, delivery services and more, there is no parallel. 
Consumers can now search for deal offers from a large variety of cannabusinesses across the U.S. Herban Planet makes it easy to find the optimal deal near you or locate a specific dispensary you seek.
For those looking to further their knowledge of cannabis, the company has teamed up with Green Flower Media, the largest online cannabis educational platform available.  Whether a beginner or expert in the cannabis world, consumers can study topics ranging from yoga and nutrition, to how to shop for and grow cannabis from the world's leading experts in the industry.
Herban Planet not only helps educate consumers, but also keeps them informed with the latest cannabis news, covering a wide variety of topics including business, legal, politics, technology, medical, lifestyle, entertainment and much more.  With new articles published daily, the most current information is available at their fingertips. For more information visit www.herbanplanet.com.
Media Contact:
Jane Gordon
The Gordon Group
602-541-5040
Source: Herban Planet
Share:
---
Categories: Internet and Streaming Media, Business Technology, Healthcare and Medical Informatics
Tags: cannabis, marijuana, outer space, space, weed
---