Helping Those Who Help: Ready‑for‑Action New Home Opens for Clearwater Community Volunteers
From Winter Wonderland and Easter Egg hunts, to cleaning up communities and disaster relief, can-do citizens energize community good works.
Press Release
-
updated: Mar 27, 2018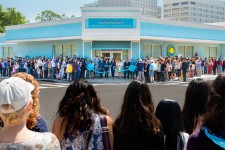 CLEARWATER, Fla., March 27, 2018 (Newswire.com) - There was a crowd, a gleaming new building, a bright spring day with a generous dose of blue sky and Central Florida sun. And a band, a stylish ensemble from the Church of Scientology, which shook the audience with words that were as important as they were melodic: "We're here to make the difference, come on! This world ain't gonna change itself…everybody needs a little help!"
At exactly 1:30 p.m. on March 24, 2018, the Clearwater Community Volunteers (CCV) and local nonprofit organizations cut the ribbon on the new Clearwater Community Volunteers Center. With more than 500 onlookers, the site of the opening ceremony was packed. And everyone wanted to be the first inside.
This was the day for the Clearwater Community Volunteers — civic-minded Scientologists who, more than 25 years ago, banded together to help out and serve the Tampa Bay community — to dedicate a home of their very own. And not just for CCV, but for all local charities and nonprofits.
The Clearwater Community Volunteers are hard working people — it is clear that they have that drive to help. Now, with this center open, it will provide a place for other people who also have that drive to help to be able to accomplish their goals, too.
The ribbon cutting was held on the threshold of the center, as key members of the Church of Scientology and CCV stood between two big satin bows behind a draping blue ribbon.
"It is our honor to have many of our partners here with us to celebrate more than four decades of community support from the Church of Scientology and the Clearwater Community Volunteers," said Lisa Mansell, public affairs director for the Church of Scientology Flag Service Organization. "And so, we dedicate this building on behalf of all volunteers, charities and nonprofits throughout this community."
As the ribbon fell, the guests flooded into the Center to tour the new facilities. In addition to serving as the headquarters for the Clearwater Community Volunteers, the CCV center was built to provide access to computers, a conference room and a multi-purpose room for meetings and events with ample space to network and collaborate with others — at no cost for local charities.
Giving "a little help" — or a lot — where it's needed is something the Clearwater Community Volunteers live by. Since 1994 the Clearwater Community Volunteers has served more than 150,000 children and families, delivered 50 tons of food and toys to the homeless and children of Tampa Bay, and so much more. The group's yearly events for children and families, like the Giant Easter Egg Hunt and Winter Wonderland, and fundraisers like Fashions with Flair, have become staples for the local community.
CCV's work through the years, including funds raised and donated to local charities, has given rise to partnerships. The growing coalitions between charities helped inspire the opening of the Clearwater Community Volunteers Center.
Another group that will benefit from the opening is the Tampa Bay Charity Coalition. Formed by the Church to facilitate and coordinate efforts by local nonprofits, the Coalition has grown from just 38 nonprofits at their first meeting in September 2014 to more than 200 strong in 2018.
At a special meeting of the Charity Coalition held just 30 minutes after the CCV Center opening, community leaders joined the Church in dedicating the new facility: Joel R. Lewis, pastor of Out of Our Heart Ministries, which is dedicated to creating unity among people of all faiths; Karena Morrison, founder and CEO of the nonprofit Shop Local for Good, which encourages locally owned businesses to partner with area charities; and Neil Brickfield, executive director of the Pinellas Sheriff's Police Athletic League, a community program providing tutoring, mentoring and sports activities for area youth.
Pastor Lewis spoke of his work as a minister and his experience with the Church of Scientology Volunteer Ministers. Out of Our Hearts Ministries was founded to bring people together with one accord: To remind them that "knowledge is free, love is free, and unity is free." Pastor Lewis explained that the Scientology Volunteer Ministers exemplify this. He said he has seen the Volunteer Ministers going out into the community and asking people, "What do you need?" And then delivering that help to them.
"You are answering the needs of the community," Lewis said. "My hope, as we move forward is that I will continue to be a help to you as you are a help to me. Together we can take advantage of the tools and the knowledge that you bring — which have caused me to be able to better help my community."
Karena Morrison first encountered the Church of Scientology and the Clearwater Community Volunteers while working with the Martin Luther King Jr. Neighborhood Center Coalition. Hard times had fallen upon the center causing it to be closed, but with the help of the Church its doors were reopened with new life. "The Church graciously contributed to the renovations," said Morrison, "and then came in and did them." She spoke of how she witnessed, "thousands of volunteer hours put in to bring the center back to life," adding, "that was something!"
"And then last year, the Church of Scientology came to Greenwood after Hurricane Irma," said Morrison. "I live nearby and there was no water or power for a week, these people had nothing they could do and nowhere to go." She described how the Scientology Volunteer Ministers were there every day giving out food, water, and ice to everyone in the neighborhood. "You were the only organization there during that crucial time; it was greatly appreciated by the community."
Morrison stressed the benefits made possible by the Tampa Bay Charity Coalition. "The Church brings all of us together at the Charity Coalition and facilitates relationships that I don't think would have easily existed without them," said Morrison. "In this way, we can grow our nonprofits and become stronger as a community."
Neil Brickfield sees the impact of CCV and other local charities in their benefit to the children he serves. He spoke of his personal work as the executive director of the Pinellas Sheriff's Police Athletic League, saying, "It is the most rewarding work that I have done. These are kids who have it rough." He explained that seeing the changes that can occur in the life of a young person when they have, "just a bit of guidance and direction is a 'miracle' almost every day."
Brickfield observed that he and his staff can't do their jobs without community backing. "We completely count on our partners in the community to give us the extra boost when we need it," he said. "The Clearwater Community Volunteers are one of these groups."
Brickfield detailed the many ways that CCV has helped his Center and the kids he serves, from organizing and donating their bouncy house and train for kids at the Police Athletics League Back to School event to raising donations of food and toys for the holidays for families in need.
"There are kids who had Christmas this year who wouldn't otherwise have had it," Brickfield said. "Why? Because the Clearwater Community Volunteers were there as a community partner for PAL. The Clearwater Community Volunteers are hardworking people — it is clear that they have that drive to help. Now, with this center open, it will provide a place for other people who also have that drive to accomplish their goals, too."
Brickfield called the new center a "nonprofit incubator," saying he has never seen another one like it. In closing, he said, "And I'm sure that you would all agree that there is only one fate for this center, and that is success!" 
The Center is the latest in a series of projects by the Church of Scientology to provide a complete foundation for area charities and nonprofit groups.
It began in July 2015 when the Church opened the Scientology Information Center and six facilities along Fort Harrison Avenue for Church-supported humanitarian and social betterment programs:
A Clearwater home for United for Human Rights and Youth for Human Rights–global education initiatives working to identify and protect the rights of every citizen of the world. This headquarters has partnered with 350 like-minded groups and organizations to bring effective education on human rights to young and old alike throughout the State of Florida.
A center dedicated to The Way to Happiness (TWTH), the nonreligious moral code written by Scientology Founder L. Ron Hubbard. The new Clearwater office provides common-sense morality to communities throughout Tampa Bay. In one Pinellas County neighborhood, North Greenwood, TWTH volunteers teamed up with local law enforcement and community outreach groups to begin a campaign to educate residents with The Way to Happiness. Since the campaign started in August 2015 the crime rate in the North Greenwood neighborhood has dropped by 60 percent.
The Criminon Florida headquarters, a central point for carrying out the mission of addressing the causes of criminality and restoring offenders' self-respect through effective character-building programs. Currently, more than 1,000 prisoners in Florida are enrolled on Criminon programs, improving their chances of re-integrating into society as productive citizens.
The new center for the Foundation for a Drug-Free World, whose international Truth About Drugs program has reached hundreds of millions of people worldwide. The Foundation has created partnerships with 65 law enforcement agencies and more than 500 groups and youth education facilities around Florida.
An operations center for Citizens Commission on Human Rights, the world's leading mental health watchdog group since 1969. The center features the Psychiatry: An Industry of Death museum and serves as an investigative arm and referral center dedicated to the eradication of psychiatric abuse.
And the downtown headquarters of the Church's Volunteer Ministers, part of a global movement active in 120 nations — the world's largest independent relief force. This year alone, local Scientology Volunteer Ministers volunteered thousands of hours to help Clearwater and nearby communities recover from the ravages of Hurricane Irma.
The opening of the Clearwater Community Volunteers now crowns the city block of organizations whose mission is to elevate the best humanitarian endeavors. CCV's opening embraces all charities, faith-based betterment programs of all denominations, and nonprofits in the Tampa Bay area.
Read the article on the Scientology Newsroom.
Source: ScientologyNews.org
---
Categories: Philanthropy
Tags: CCV, Clearwater Charity Coalition, Clearwater Community Volunteers, grand opening, Scientology
---