Helping Teens Avoid Human Trafficking and Cyberbullying
At a workshop at United for Human Rights Florida headquarters in downtown Clearwater, a Pinellas County Deputy Sheriff briefed Clearwater teens on how to protect their privacy and prevent cyberbullying
Press Release
-
Jul 1, 2016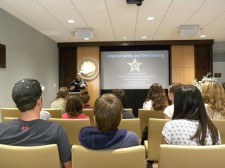 Clearwater, Florida, July 1, 2016 (Newswire.com) - Texting, sexting and social media can put teens at risk, according to Pinellas County Deputy Sheriff Jessica Hughey. 
At United for Human Rights Florida headquarters in downtown Clearwater June 29, Hughey briefed 58 students and eight teachers on two vital issues relating to their use of the Internet—cyberbullying and human trafficking—and what to do to avoid them both.
Recent studies by the National Campaign to Prevent Teen Pregnancy, Pew Internet & American Life Project and the Cox Communications Teen Online & Wireless Safety Report found 20 percent of teens have sexted (sent or posted nude or semi-nude photos or videos of themselves online). Once nude images are texted or posted on social media they can get into the hands of human traffickers who then try to lure the teens into prostitution. And as 30 percent of teens surveyed receive and answer text messages asking them where they are, they can be inadvertently assisting traffickers in locating and contacting them.
Deputy Sheriff Hughey is part of the Pinellas County Sheriff's Office Crime Prevention Unit. She educates neighborhood watch groups and the public on general safety issues including how to  protecting one's privacy on social media. She has been with the agency since September 2013, was formerly with the Florida Highway Patrol for 10 years, and also serves as a mentor to teens and young adults.
The seminar was one in a series of lectures at United for Human Rights Clearwater headquarters. The center was opened by the Church of Scientology in July 2015 as a service to the community.
Inspired by the words of Scientology Founder L. Ron Hubbard, that "Human Rights must be made a fact not an idealistic dream," The Church of Scientology supports United for Human Rights, the world's largest nongovernmental human rights education campaign. Its purpose: To raise awareness and implementation of the United Nations Universal Declaration of Human Rights.
Source: ScientologyNews.org
---
Categories: Human Rights, Privacy Law, Prostitution
Tags: Clearwater, Scientology, United for Human Rights
---