Helping Prepare Mexico City for Future Disasters
Press Release
•
updated: Sep 6, 2018
In the year since last September's devastating Mexico earthquake, Scientology Volunteer Ministers have been making the country safer through a disaster preparedness program.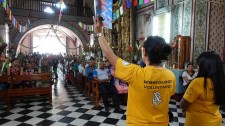 MEXICO CITY, September 6, 2018 (Newswire.com) - When the September 2017 Mexico City earthquake struck, Scientology Volunteer Ministers (VMs), who served as a vital part of the recovery effort, asked the question: How do we help the city prepare for the next time disaster strikes?
They answered that question with a Volunteer Minister tour providing disaster preparedness training to cities across the region.
As soon as the search and rescue phase of the earthquake was over, they began in the Guerrero neighborhood of northern Mexico City, where many schools requested training. There they focused on two factors: drilling people on how to survive a major earthquake and training on the Volunteer Ministers The Solutions for a Dangerous Environment booklet. Those participating not only learned the rudiments of how to protect themselves and their families, they also gained the tools to address the confusion, anxiety, loss and trauma that are the inevitable consequence of a major natural or manmade disaster.
To ensure the city was fully prepared to guarantee the safety of the local children, the Volunteer Ministers also trained 530 school police officers in these techniques at the Church of Scientology Mexico City.
Next, the tour visited Tlatelolco, where the Nuevo León housing complex collapsed in the 1985 Mexico earthquake, killing all residents inside. The area was electrified by the 2017 earthquake which brought back the feeling of panic and alarm from that experience. VMs set up their distinctive yellow tent in the Plaza de las Tres Cultura, and there too the training brought calm and confidence, helping local residents relax and get on with their lives.
Traveling south to the state of Oaxaca, the VMs arrived in San Pablo Villa de Mitla. Again delivery focused on schools, but also included the police, municipal officials and parishioners of a church. A local priest welcomed the volunteers by cutting the ribbon to their tent, set up in the main town plaza.
Once the disaster was officially over, the Volunteer Ministers continued their program, delivering more than 200 seminars to school students, teachers, police officers and church parishioners over the next year.
The Church of Scientology Volunteer Minister program is a religious social service created in the 1970s by Scientology Founder L. Ron Hubbard. Anyone of any culture or creed may train as a Volunteer Minister and use these tools to help their families and communities. The Church provides free online training on the Volunteer Ministers website.
In creating the Volunteer Ministers program, L. Ron Hubbard wrote, "If one does not like the crime, cruelty, injustice and violence of this society, he can do something about it. He can become a Volunteer Minister and help civilize it, bring it conscience and kindness and love and freedom from travail by instilling into it trust, decency, honesty and tolerance."
Source: Scientologynews.org
Related Media