Helping Make Hollywood Clean and Safe
Press Release
•
updated: Sep 21, 2018
The Hollywood Village cleanup project—a monthly partnership between The Way to Happiness Foundation, the Church of Scientology and the LAPD—out on the streets again to help make Hollywood beautiful, safe and clean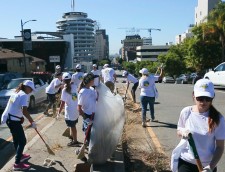 HOLLYWOOD, Calif., September 21, 2018 (Newswire.com) - It was a perfect day for bringing out the rakes, brooms, shovels and trash bags and tackling the Hollywood Village neighborhood. The team gathered at the Church of Scientology Celebrity Centre on Bronson and Franklin at 9, where coffee and donuts were provided by the nearby Oaks Gourmet Market and Kettle Glazed Doughnuts. Then some 40 volunteers, accompanied by three LAPD officers, took off for Sunset Boulevard, passed by Viacom, down to Netflix, over to Vine Street and covered all points in between.
They cleaned up two homeless encampments, secured used syringes and various drug paraphernalia, filled 15 heavy duty trash bags and hauled them all off in their pickup truck.
The weather was perfect—a classic Southern California morning—and everyone pitched in to do their part.
By survey, Hollywood residents love the convenience and ambiance of the neighborhood but trashed-out streets are a common complaint and care of the homeless a top concern. Hollywood Village launched its monthly neighborhood cleanup project in January to bring the community together to address these issues.
In addition to carrying out the cleanup, volunteers hand out copies of The Way to Happiness, a common-sense moral code that can help people put their lives back on track, no matter the circumstances. As the booklet points out: "One can feel that things are such now that it is much too late to do anything, that one's past road is so messed up that there is no chance of drawing a future one that will be any different: there is always a point on the road when one can map a new one. And try to follow it. There is no person alive who cannot make a new beginning."
Hollywood Village is a community movement to make Hollywood beautiful, friendly, safe and clean. One of the many activities it offers is Cinema Under the Stars, with free movies for the entire family. This weekend's show, Field of Dreams, starts at 7:30 p.m. on Saturday, Sept. 22, at the Church of Scientology Celebrity Centre, 5930 Franklin Avenue. Everyone is invited.
For more information visit the Hollywood Village Facebook page or follow them on Instagram or Twitter.
The Way to Happiness was written by humanitarian and Scientology Founder L. Ron Hubbard in 1981. Immensely popular since its first publication, it has been embraced by more than 250,000 groups and individuals, with some 115 million copies distributed in 186 nations. It holds the Guinness World Record as the single most-translated nonreligious book and fills the moral vacuum in an increasingly materialistic society.
The Church of Scientology and its members are proud to share the tools for happier living contained in The Way to Happiness.
Source: Scientologynews.org
Related Media