Helping Families Cope With the Devastation of Hurricane Michael
Press Release
•
updated: Oct 26, 2018
Scientology Volunteer Ministers disaster response in Mexico Beach, Florida, a town that that was all but destroyed by the storm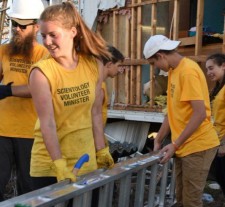 MEXICO BEACH, Fla., October 26, 2018 (Newswire.com) - Before Oct. 10, 2018, Mexico Beach was a scenic vacation spot on the Florida Panhandle known for its small-town hospitality, fishing and white sandy beaches. Then Hurricane Michael blasted the coastal community, destroying virtually everything in its path. Fourteen-foot storm surges slammed into homes, ripping them from their foundations and carrying them away, and 155-mph winds cracked and uprooted trees and hurled them across roadways and into nearby buildings.
Scientology Volunteer Ministers (VMs) provided support to first responders during the search-and-rescue phase and have stayed in the town helping families, many of them living in their storm-damaged homes without water or electricity.
"We completed wrapping a house in tarps," said a Volunteer Minister. "The elderly lady who lives there lost her entire roof — it was blown off in the storm. She will most likely have to have the house razed but has nowhere else to go for now."
Carrying chainsaws, VMs move through the town, chopping down toppled trees. Others set up a distribution center where they hand out water, hygiene kits and baby supplies.
While the physical damage is devastating, the hurricane's emotional impact is no less intense. Volunteer Ministers are trained to help people recover using Scientology assists — techniques developed by Scientology founder L. Ron Hubbard that address the emotional and spiritual factors in stress and trauma.
"One woman was standing outside her home crying," said a Volunteer Minister. "She lives alone — she has lived there all her life. All the windows were broken. It's boiling hot and there's no water or power and she has no family." The Volunteer Minister gave her a Locational Assist. "At the end of the assist, she stopped crying and said she felt OK now." The woman realized she could step back now and look at the situation — she may have lost her windows, but at least she had her home. So many others lost theirs. She felt more confident and able to deal with the problems that seemed overwhelming just a few minutes before.
Volunteer Ministers headquarters plans to continue relief efforts in Florida for the long term. Trained volunteers wishing to help should contact their Scientology Church or VM headquarters at (800) help4yu. Volunteer Minister training is available free of charge at the Scientology Volunteer Ministers website.
The Church of Scientology Volunteer Minister program is a religious social service created in the mid-1970s by L. Ron Hubbard. Anyone of any culture or creed may train as a Volunteer Minister and use these tools to help their families and communities.
In creating the Volunteer Ministers program, L. Ron Hubbard wrote: "If one does not like the crime, cruelty, injustice and violence of this society, he can do something about it. He can become a Volunteer Minister and help civilize it, bring it conscience and kindness and love and freedom from travail by instilling into it trust, decency, honesty and tolerance."
Source: ScientologyNews.org
Related Media