Healthy Hormone Glow, a New Skincare Concept by Award Winning Creation Skin, a Hormone Friendly Skincare Brand
Press Release
•
updated: Sep 9, 2020
Living a Healthy, Non-Toxic Lifestyle that Supports Hormonal Health with Healthy Skincare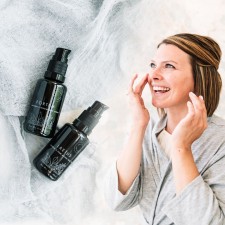 SPRINGFIELD, Mo., September 9, 2020 (Newswire.com) - ​​​​​At some point in their lives, women experience hormonal changes that affect their health and wellness; although some are biological, others can be managed with lifestyle changes. Creation Skin was founded with the mission to provide high-performance skincare that allows women to be proactive in safeguarding their long-term hormonal health. According to a recent study by the Breast Cancer Fund, women's health problems are on the rise; women use an average of 9-15 personal care products per day and researchers are concerned that endocrine-disrupting chemicals in products may be a key contributor to the increase in breast cancer rates as well as endometriosis, a leading cause of female infertility. The Founder of Creation Skin, Jennifer Biagioni states,
"It's truly all about the ingredients. Our vision is to help others live a happy hormone, healthy lifestyle while providing high-performance products that are non-toxic and scientifically proven to be safe and effective. Fragrance is one ingredient you will never find in any of our products."
According to the International Fragrance Association, IFRA, as many as 3,059 different chemicals can be masquerading as the term 'fragrance' on product labels, many of which are known carcinogens, endocrine disruptors, developmental toxins, neurotoxins, and more. Endocrine disruptors have become far too prevalent and have the ability to cause devastating consequences on a woman's long-term health; migraines, anxiety, insomnia, weight gain, fatigue and PMS are just a few potential symptoms that could be an indicator of a hormonal imbalance. Ms. Biagioni says,
"As a brand, Creation Skin exists to empower others to make informed decisions about what they put on their skin and about the choices that impact their health."
This month, Creation Skin released the Just Be Collection with the slogan, "Just Be Healthy, Just Be Beautiful, Just Be YOU!...because Healthy looks good on you!" Their message has resonated on social media and their account has recently reported having over 20k followers on Instagram.
Recently, their Daily White Tea Moisturizer, Mitis, won Editor's Choice award from the world acclaimed Beauty Shortlist, Mama & Baby Awards 2020; Mitis has become Creation Skin's most reviewed product, the perfect daily medley of nutrient-rich seed oils of jojoba, mango, and meadowfoam flower, infused with botanical extracts of white tea, jasmine, and elderflower.
To learn more about Creation Skin, become a VIP subscriber at https://www.creationskin.com/vip.
References: Department of Health and Human Services Centers for Disease Control and Prevention. National Center for Environmental Health Division of Laboratory Sciences. Atlanta, GA. | https://ifrafragrance.org/initiatives/transparency/ifra-transparency-list | Breast Cancer Fund. 2008. State of the Evidence: The Connection Between Breast Cancer and the Environment, fifth edition. | Zota, A.R., A. Aschengrau, et. al. 2010. Self-reported chemicals exposure, beliefs about disease causation, and risk of breast cancer in the Cape Cod Breast Cancer and Environment Study: a case-control study. Environmental Health. 9:40.
Source: Creation Skin
Tags
Additional Links