Healthcare Analytics Start-Up Sensio AIR Wins CES 2018 Innovation Award
Press Release
•
updated: Nov 10, 2017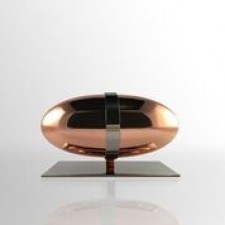 LONDON, November 10, 2017 (Newswire.com) - Healthcare analytics start-up Sensio AIR has today announced that it has been named a CES 2018 Innovation Award Honoree for its Sensio AIR allergen tracking device. Judged by a panel of independent industrial designers, engineers and members of the trade media, Sensio AIR has been presented with a title previously awarded to HP, Lenovo and Dell to name a few.
For this year's edition of CES, the panel selected the most outstanding, cutting-edge consumer products showcased across 28 different categories, with Sensio AIR receiving the award for the 'Tech for a Better World' category.
We are very honored to have won such an esteemed award. The acknowledgment gives credit to all the hard work completed in-house so far, and gives us the motivation and means to push the product in the US market.

Dr. Eve Tamraz Najjar, Co-Founder and CSO
Having battled asthma and allergies all their lives, husband and wife co-founders Cyrille Najjar and Dr. Eve Tamraz Najjar decided to tackle an unresolved issue, all while highlighting the significance of preventive healthcare. On a mission to reveal invisible, potentially life-threatening airborne particles, they developed the first patented sensor capable of identifying and tracking them. Talking about the reasons behind the company's mission, Cyrille Najjar, CEO and co-founder of Sensio AIR said, "Air quality is a challenge to understand — even for some of the world's most prominent regulatory committees, like WHO or EPA. We took it upon ourselves to link asthma and pollution in order to highlight the impact air quality can have on asthma and allergy sufferers — and we've done so by focusing on the preventative and predictive aspects," he explained.
Dr. Eve Tamraz Najjar, CSO and co-founder of Sensio AIR commented on the recognition by CES. "We are very honored to have won such an esteemed award," she said. "The acknowledgment gives credit to all the hard work completed in-house so far, and gives us the motivation and means to push the product in the US market. This validation from CES enables us to project the significance of asthma and allergy prevention on a larger scale, and therefore change the way respiratory conditions are dealt with in the US and the rest of the world," she concluded.
The Sensio AIR allergen tracking device will be showcased at booth #50009 in Eureka Park at CES 2018, which runs from Jan. 9 until the 12th in Las Vegas, Nevada.
The Sensio AIR team has also developed a mobile app that helps sufferers understand their symptoms, prevent future outbreaks and manage the effects — it does this by monitoring the air quality data of 200 cities across the world. The Sensio AIR mobile application is available for download on the App Store now.
About Sensio AIR
The product
After two years of research, Sensio AIR was born: a patented allergen tracking device made with a unique technology able to detect and identify airborne particles. The product also provides users with tailored feedback and encourages them to take the necessary steps towards achieving a cleaner, healthier living environment. If users already possess a smart home automation system, Sensio AIR will instantly connect to the installed network.
Sensio AIR boasts a unique sensor that uses the very latest in remote detection technology. Ultimately, this permits the user to request particle identification data from the comfort of their own home. The Sensio AIR device is set to hit the market in 2018.
The market
According to the American Academy of Allergy, Asthma and Immunology, less than half of American asthma sufferers reported being taught how to avoid triggers. Internationally, around a quarter of a million people die early every year because of asthma – and almost all of these deaths are avoidable. Sensio Air is determined to change these statistics for good.
Since allergens are microscopic, they cannot be seen by the naked eye – meaning people do not always understand the significant role airborne particles play when it comes to health. Additionally, most asthma and allergy sufferers turn to treatment after their symptoms take hold, instead of preventing them from occurring in the first place. The Sensio AIR team is made up of experts who excel in live particle monitoring and allergen identification – so the hard part is taken care of.
The company
Sensio Air's founders Cyrille Najjar and Dr. Eve Tamraz Najjar both suffer from airborne allergies and asthma. Together, they have worked to develop a sensor that identifies and tracks the airborne particles known to trigger allergic or asthmatic reactions, and are now looking to ensure sufferers have the knowledge to both understand their symptoms and manage their effects.
Contact us
Tel - +1 415 230 0014
Email - air@wlab.io
Address - 1920 McKinney Avenue, Dallas, Texas
As featured in
Sensio Air, formerly known as White Lab, has also been featured in the Wall Street Journal, Forbes, The Telegraph, The Guardian, The Evening Standard, MIT Tech Review, BBC Click, Science Disrupt, Buzzfeed, WIRED, Entrepreneur and Executive magazine.
Awards
- CES Innovation Award Honoree (2018)
- Mass Challenge UK - 1st Place (2017)
- Air Quality Track Competition at Hello Tomorrow - Winner (2017)
- UK Lebanon Tech Hub - 1st Place (2016)
- Innovators Under 35 - MIT Technology Review (2016)
- Harvard Start-Up Pitch Competition at Harvard Weekend - 1st Place (2015)
- IE International Venture Day - 1st Place (2015)
Notes for editors
- By 2025, asthma will represent the most prevalent chronic childhood disease, and result in one of the highest causes of health care costs.
- Asthma is becoming more widespread in the USA. Approximately 25 million people suffered from the disease in 2009, compared to 20 million in 2001.
- From 2002 to 2007, asthma costs America around $3,300 per person each year, by way of medical expenses, missed school or work days and premature deaths.
- The World Health Organization (WHO) states that avoiding asthma triggers can reduce the severity of asthma.
About CES 2018
Sponsored by the Consumer Technology Association (CTA)™, the owner and producer of CES 2018, the esteemed CES Innovation Awards have continued to acknowledge achievements in product design and engineering since 1976. Products awarded with winning titles at CES 2018 are judged on the engineering, aesthetics, design, intended use/function and user value, unique/novel features and how the overall product compares to other items in the marketplace.
CES 2018 Innovation Honoree products are featured on CES.tech/Innovation, which lists product categories, as well as each product name, manufacturer information, description, photo and URL.
Source: Sensio AIR
Related Media
Tags
Additional Links