Health Systems Advise Financially Struggling Peers to Measure EHR Vendor Value Propositions Against Heavy Brand Influences
Press Release
•
updated: Dec 11, 2018
Most large health systems are prospering with their EHR selections, while many smaller organizations are struggling to stay afloat.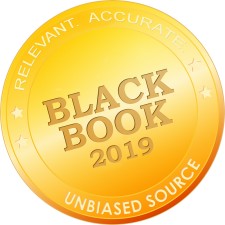 TAMPA, Fla., December 11, 2018 (Newswire.com) - Over seven frenzied years of inpatient EHR system implementations, Black Book crowd-surveyed tens of thousands of tech-weary hospital executives and user-level IT staff that withstood at least one broad EHR system switch to reconsider if providers got what they bargained for.
The results are decidedly mixed.
The good news is that 93% of polled large health system providers -- including medical research centers, massive provider networks, and prestigious academic organizations -- had the fewest regrets over their EHR vendor selection through the decade. Also of note during the same time period, these providers generated excellent patient outcomes and have established assured sources for their long-term financial stability. Nearly all of these category respondents were the clients of two major vendors in 2018 -- as opposed to a mix of 11 EHR vendors in 2012 -- indicating that consolidation initiatives are slowing and the replacement satisfaction among larger, well-financed, nonprofit health systems is confirmed.
Specifically, according to polled executives in not-for-profit institutions with over 1,000 beds, despite extraordinary budget overruns, lost revenue and managerial displacements, corporate satisfaction exceeded expectations -- even in the face of heavy implementation and operating expenditures that did not even out with the government's EHR incentives.
The bad news: Modest-sized regional health systems expressed the biggest regrets, with 88% of respondents lamenting over a combination of vendor-hidden costs, unexpected consultant fees, interrupted revenue cycles, consumer frustration, time-extended rollouts, physician and clinical burnout, system downtime, reliability issues, and mismatches in vendor/client cultures when reviewing their vendor selection, whether original or replacement IT.
"In retrospect, mid-market system CIOs spent a lot of money focusing on functionality and incentive-dollar achievement, thus many did not appropriately approach long-term value by dealing with basic issues, such as departmental workflows, usability, interoperability, and data-sharing standards," says Doug Brown, president of Black Book. "We found the majority (69%) of struggling hospital systems in 2018 that are dealing with very tight margins -- or even losing money -- regret their IT choices, which still have them teetering between being able to stay open or having to close."
77% of leaders in all responding hospitals acknowledge they need to course-correct from purchasing redundant, replacement IT and equipment while right-sizing their workforces and eliminating inefficiencies in care delivery as related to earlier EHR purchases in 2019.
Black Book reviewed the inpatient EHR user survey results compiled since the acquisition pace heated in 2011, aside the following eight years of user surveys. As the fury subdued, systems with less than 1,000 beds reflected on technological successes balanced with significantly higher-than-projected costs, related layoffs, declining inpatient revenues, unrecovered margins, increased IT salaries and wages, and disenfranchised clinicians.
76% of community hospital C-suite respondents report they are continuing to doubt the benefits of switching EHR systems for brand recognition as opposed to a true value proposition that included functionality, usability, and interoperability.
47% of all health systems in the red over their replacement EHR rollouts report the inability to achieve a true rebound in operating margin after four years post-implementation.
SIDEBAR:
OTHER KEY FINDINGS
The high total cost of ownership of EHR replacement was a barrier for some struggling hospital CIOs to buy a new system
● 95% of those financially threatened hospitals in Q4 2018 regret the executive conclusion to change systems, as compared to 87% in 2016.
● 19% of all hospitals over 500 beds that replaced their original EHR since 2011 were losing inpatient revenue at a pace that wouldn't support the total cost of their replacement EHR. "It was a risky decision, as hospitals were facing the fact that they would not be back to their pre-EHR implementation patient volumes, inpatient or ambulatory, maybe forever," says Brown. "No other industry spends so much, per unit of IT, on the part of the business that is shrinking the fastest and holds little growth as hospital inpatient revenues."
● 90% of hospital systems over 500 beds said they have been consistently over budget every year since EHR replacement rollout on projected EHR consultant costs, post-implementation EHR support, EHR-related staffing and now, EHR optimization initiatives.
Levels of interoperability decreased immediately upon initiating a replacement EHR
● 71% of system users in 2018 responded that widespread interoperability and patient data exchange functionality actually declined after their replacement EHR rollout. "Unfortunately, the government incentives that compelled health systems, hospitals, and physicians to take the financial risk to make costly IT purchases did not include the added costs of meaningful data sharing across all vendor platforms," Brown says. "Every widely used EHR vendor has some customers that report high adoption, functionality, usability and satisfied clinicians, suggesting that the continuing interoperability challenges may be a government-funding issue, and not a provider or vendor issue."
The automatic buy-in of physicians and other clinicians for certain replacement EHR brands was exaggerated
● 85% of responding executives admit the automatic clinical/physician buy-in they were oversold by vendors never materialized after a replacement launched.
● 91% of polled physicians question their vendors' motives to insist on employing a consultant to evaluate their post-implementation product usability or training effectiveness.
● 72% of hospitals with replacement EHRs could not report any competitive advantages to attract doctors based on their new system.
● 84% of IT staff said they felt they had to coerce network physicians into adopting replacement EHRs via the hospital IT department.
● 98% of polled executives said physician and clinician EHR/IT-related burnout was never introduced by their vendor in the sale or implementation processes.
Hospital EHR replacements cost jobs, many left by choice
● 64% of executive-level respondents stated they, or their peers, felt in employment jeopardy through the EHR replacement process.
● 5% of respondents at the manager level or higher claimed they or their peers were actually fired or asked to resign directly because of EHR replacement costs or productivity impacts.
● 22% said intermittent or permanent staff layoffs were directly caused by implementation delays, cost overruns, budgets underestimated, or unavailable trained personnel.
About Black Book ™
Black Book Market Research, LLC, provides healthcare IT users, media, investors, analysts, quality minded vendors, and prospective software system buyers, pharmaceutical manufacturers and other interested sectors of the clinical technology industry with comprehensive comparison data of the industry's top respected and competitively performing technology vendors. The largest user opinion poll of its kind in healthcare IT, Black Book™ collects over 620,000 viewpoints on information technology and outsourced vendor performance annually. Black Book is internationally recognized for more than 15 years of customer satisfaction polling, particularly in technology, services, outsourcing, and offshoring industries.
Black Book™, its founders, management and/or staff do not own or hold any financial interest in any of the vendors covered and encompassed in their surveys, and Black Book reports the results of the collected satisfaction and client experience rankings in publication and to media prior to vendor notification of rating results. Follow Black Book on Twitter at http://www.twitter.com/blackbookpolls.
For methodology, auditing, resources, comprehensive research and ranking data, see https://www.blackbookmarketresearch.com.
Media Contact: Research@BlackBookMarketResearch.com
Source: Black Book Research