Heal the Earth Through the Arts Foundation Hosts Its Second Annual Thanksgiving at Miami Rescue Mission
Press Release
-
updated: Nov 28, 2018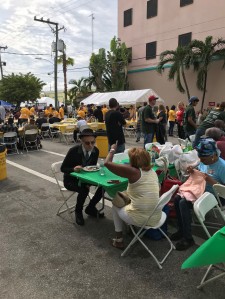 MIAMI, November 28, 2018 (Newswire.com) - This Thanksgiving, Heal the Earth through the Arts Foundation joined Miami Rescue to feed the homeless. Dr Farshchian was especially touched to share the Thanksgiving meal with all the homeless attendees. He said, "I ate with many; whom for various reasons and unique circumstances are down and out but were once physicians, lawyers, accountant and engineers. Mental Illness seems to play a serious role within the homeless population." 
In the summer of 2017, inspired by Michael Jackson's philanthropic work with the Heal the World charity organization, Dr. Alimorad Farshchian created  "Heal the Earth through the Arts." This charity holds telethons live on Facebook; the telethons help to raise money for the homeless in Miami. Farshchian has stated in several interviews that this is his way of giving back to his community and continuing Michael Jackson's legacy.
The Miami Rescue Mission website states: "Since 1922, the Miami Rescue Mission | Broward Outreach Centers, The Caring Place, has served the homeless and needy of South Florida. Our Broward Outreach Centers were first established in 1992. Our Miami-Dade and Broward Centers serve over 1,300 men, women and children each day. There are approximately 800 people enrolled in our residential life-changing programs. At the heart of these decades of serving those in the greatest need are our core values."
According to the Miami Herald, the Miami Dade Homeless Trust released its annual "point in time" count in February 2016, showing that countrywide, the number of both sheltered and unsheltered homeless is up two percent.  
The Substance Abuse and Mental Health Services Administration says: "20 to 25% of the homeless population in the United States suffers from some form of severe mental illness. In comparison, only 6% of Americans are severely mentally ill (National Institute of Mental Health, 2009). In a 2008 survey performed by the U.S. Conference of Mayors, 25 cities were asked for the three largest causes of homelessness in their communities. Mental illness was the third largest cause of homelessness for single adults (mentioned by 48% of cities). For homeless families, mental illness was mentioned by 12% of cities as one of the top 3 causes of homelessness."
Dr. Farshchian, the medical director for The Center for Regenerative Medicine, has over 18 years of experience in the field of regenerative medicine, helping thousands suffering from arthritis, macular degeneration disease, COPD and congestive heart failure. For more information, please visit www.Healtheearth.us 
Earlier today, the spokesman for Heal the Earth, Mr. Bernardo Lessa-Bastos said, "We are very proud to be contributing to our community through Miami Mission rescue and advancing our ability to help those with Retinitis Pigmentosa."
Press contact: Bernardo Lessa-Bastos
305-891-4686
Heal the Earth through the Arts Foundation
Source: Heal The Earth Through the Arts Foundation
Share:
---
Categories: Non Profit
Tags: Healthcare, Homeless, Michael Jackson
---