HAZON Passes Major Bridge Inspection Milestone
Press Release
•
updated: Aug 22, 2017
Over 100,000 Linear Feet of Rail Bridge Inspected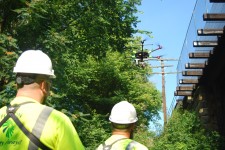 VIRGINIA BEACH, Va., August 22, 2017 (Newswire.com) - HAZON Solutions ("HAZON"), the national leader in drone inspection services, announced today that the company has recently surpassed the inspection of more than 100,000 linear feet of railway bridges. Since early 2016, Norfolk Southern has commissioned HAZON to conduct the most comprehensive drone-based inspections in the industry.
"We're very proud to announce this remarkable milestone," said CEO and co-founder David A. Culler, Jr. CAPT USN (ret). "We are absolutely the industry leader for the inspection of critical infrastructure and Norfolk Southern is leading the rail industry with the safe and practical integration of unmanned systems into their operations."
We're not just getting exterior shots, we're flying underneath and inside the voids of bridges to make sure critical load bearing areas are covered from every possible angle.

Sean Cushing, Co-Founder and COO
In just 18 months, HAZON has conducted over 64 complete bridge inspections across the eastern United States. HAZON's inspections include complete coverage of the entire bridge using high definition (HD) still frame, video and thermal imaging cameras. HAZON inspection teams fly within 15 feet of the rail bridges to capture the highest quality pictures possible. Additionally, HAZON inspection teams utilize proprietary techniques to fly under and inside bridge spans, collecting imagery from angles previously unavailable.
"When we say comprehensive, we truly mean it," said COO and co-founder Sean Cushing, CDR USN (ret). "We're not just getting exterior shots, we're flying underneath and inside the voids of bridges to make sure critical load bearing areas are covered from every possible angle. We also capture shots of every single bottom lateral and gusset plate; best of all, we don't consume any track time. We collect actionable information and trains keep moving."
HAZON has also made a name for itself inspecting power transmission lines in the energy sector and launched the drone fleet management software known as the HAZON DMS. HAZON has a third vertical in providing training and consulting services to large enterprises helping them to build organic drone programs.
"This milestone is great for HAZON, but also great for the entire drone industry," said Culler. "Norfolk Southern has proven that UAS technology is a safe and effective tool for critical infrastructure inspections. The experience and expertise that HAZON has gained on the UAS inspection front have been invaluable; it has allowed us to move beyond proof-of-concept and into the transition period of integrating drones into the daily workflow. It's a very exciting time for the entire drone ecosystem and the customers we serve."
About HAZON Solutions
Based in Virginia Beach, HAZON Solutions is the leading U.S. developer of small unmanned systems operations, capability development, training, safety and testing programs. The mission of HAZON Solutions is to conduct, support, develop and validate small unmanned systems operations. Our goal is to provide unmatched quality, safety and value to our customers.
HAZON has deep roots in naval carrier aviation and intelligence systems. The company's leadership team has more than 100 years of cumulative command and operations experience in the most challenging and hostile aerial environments in the world. Its members share a common background of flying fighter jets from aircraft carriers. HAZON CEO David Culler, Jr., spent 26 years flying for the United States Navy, capping off his career as the Commanding Officer of Norfolk Naval Station, the world's largest naval base. For more information visit www.hazonsolutions.com.
###
Media Contact:
Ed Hine
Vice President - Marketing and BD
ed@hazonsolutions.com
757-962-9000 o
Source: HAZON Solutions, LLC
Tags
Additional Links