Haxby Menswear Makes Luxury Accessible With the $40 Premium Jean
Press Release
•
Sep 13, 2016
Haxby Launches New Collection of Premium Menswear Essentials, with No Retail Markup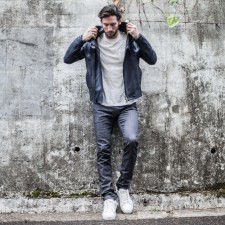 Los Angeles, CA, September 13, 2016 (Newswire.com) - Haxby, a premium menswear brand specializing in denim, accessories, and outerwear, are announcing the release of a $40 premium jean. Made from Italian and Japanese denim, constructed entirely in Los Angeles, CA, these jeans come in three colors and three cuts - for a perfect fit and style for every guy. Next month, the brand will be releasing a full line of luxury essentials at unheard of prices, including suiting made in Japan (starting at $395), outerwear made in Italy (starting at $299) and accessories made in Switzerland (starting at $45).
The inspiration behind Haxby's new collection came from a simple desire to design and create beautifully crafted garments and to deliver them to their customers at unparalleled prices. A luxury menswear brand - for everyman. Tim White, Haxby's Creative Director, states: We kept asking ourselves: "why can't elevated be accessible?" The answer is, it can. "We combined our passion for design with premier manufacturing and materials, to offer elevated classics, from casual to formal, that every guy can relate to. Affordable clothes that not only make you look and feel good, but are also crafted with care and integrity". To us, this is the future of menswear."
"The traditional retail model is broken and outdated," says Haxby CEO, Mike Dow. "Currently, the creators (brands) take all the risk, while the customer ends up paying 3 or 4 times more for the product than they really should - all due to the retailer's giant markup. It just doesn't make sense in today's connected, online world. We are here to change that. Our new mission is simple: to enable the "everyday guy" to achieve an elevated look, without breaking the bank."
A few key points on Haxby Menswear:
Haxby offers elevated menswear with immaculate craftsmanship at incredible price points.

Every Haxby item is constructed by the most prestigious manufacturers in Italy, Japan, and the USA, using only some of the most premium materials available.

Denim starts at $40, Accessories at $45, Suiting at $395, and Outerwear at $299.
About Haxby
​Haxby ultimate mission is to re-define how menswear is made, bought and sold - all without sacrificing quality, design, and craftsmanship. Visit https://haxby.com to learn more.
Source: Haxby Menswear, Inc.
Related Media