Hawaii Farmers Union United Celebrates 7th Year With Annual Convention October 6-8
Press Release
-
updated: Sep 22, 2017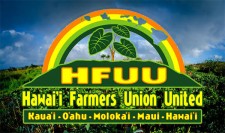 HONOLULU, September 22, 2017 (Newswire.com) - Show support for the local food renaissance by attending the Hawaii Farmers Union United annual convention from October 6-8 in Waianae on Oahu. See and learn about innovative and diverse growing technologies, new and existing ventures serving a new food system. Enjoy great farm-to-table food while spending quality time with folks creating change by evolving our food economy.   
Meet the leadership of the National Farmers Union which is flying in to recognize the seven years of hard work and accomplishments of the Hawaii Farmers Union United with a charter granting full and equal status with 24 state chapters of the national organization with 200,000 members, and with full-time staff in Washington D.C. making the case for small family farms. In its seven years of operation, the Hawaii Farmers Union United has grown to 14 chapters and over 1,000 members statewide. 
Attendees to this year's conference will learn from and enjoy hands-on workshops from experts in soil health, poly-cover cropping, "V" trellis open tatura fruiting systems, airlift aquaponics, and natural farming animal production. They will also see a showcase and interact with food system entrepreneurs currently developing ventures as part of the 12-week Farmers Union Regenerative Business Development Webinar Series. 
Local agriculture producers, gardeners and foodies who value locally produced food will converge from across the state on UH West Oahu campus on Friday for general sessions and Saturday for hands-on workshops at Kahumana Organic Farm in Wai'anae. The convention runs in conjunction with Kahumana's 5th annual farm festival. Sundays' agenda will cover the business of the organization in policy and presentations by each of the 14 regional chapter presidents. Early registration includes food and is available through Sept. 25. Program and registration information is available at HFUUHI.ORG.
About
We are a grassroots, producer-driven organization that asserts strong family agriculture is the basis for thriving rural communities. Those communities, in turn, are vital to the health and economic well-being of the entire U.S. economy.
The key to our success and credibility has been Farmers Union's grassroots structure in which policy positions are initiated locally. Whether the issue is food safety, dairy, specialty crops, trade or any other item facing America's family farmers – Farmers Union listens to its members. The National Policy Board Chair is an Organic Farmer.
Contact
Vincent Mina President
hfuu1@hawaii.rr.com
Source: Hawaii Farmers Union United
Share:
---
Categories: Agriculture and Horticulture, Local News
Tags: agriculture, farmer, farmers union
---