Harvard University-Backed Startup BrainCo Inc. Gets the Biggest Purchase Order in Brain Machine Interface (BMI) Industry
Press Release
•
updated: May 18, 2017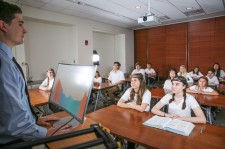 Boston, MA, May 18, 2017 (Newswire.com) - A pioneering start-up backed by Harvard University has signed a record multi-million-dollar deal with one of China's leading import and export companies. Boston-based BrainCo Inc. is fast emerging at the forefront of the BMI-AI industry and secured the landmark order for its Focus 1 products.
Focus 1 is a wearable headband that detects and quantifies students' attention levels in the classroom. It works in conjunction with Focus EDU, the world's first classroom portal for teachers to assess the effectiveness of their teaching methods in real time and make adjustments accordingly. The product was developed by PhD students from Harvard Center for Brain Science and the Harvard Graduate School of Education. It is based on scientifically proven brain activity detection and interpretation technologies.
Founded in 2015 by scientists and engineers from Harvard and MIT, BrainCo is now recognized as a leading BMI and Artificial Intelligence technology company. The company is widely regarded to be fast becoming the world's most commercially successful BMI company. Its Chinese distribution deal cements this status, with 20,000 units currently being prepared for manufacturing.
BrainCo, under the leadership of CEO Bicheng Han and product designer Sunny Guo, applies the company's technology to benefit classrooms in China. BrainCo was first approached by the Chinese distributor in 2016 and has just finalized the agreement. BrainCo is chosen by the distributor due to its industry-leading technology, superior R&D abilities and its world class core research team, which is made up exclusively of Harvard and MIT graduates.
Bicheng said: "Our partnership means that BrainCo's advanced technologies in big data and brain science will serve students and teachers in China. The Chinese after-class tutoring market totals $93 billion due to low study efficiency in the classroom. To help students achieve increased efficiency, BrainCo developed the Focus EDU system. It's our objective to help Chinese teachers optimize their teaching methodologies and better engage their students in the classroom."
About BrainCo Inc.
BrainCo is the winner of the inaugural pitch competition at the Harvard China Forum and holds a gold award from MassChallenge, the world's largest start-up accelerator. It partners with many world-renowned organizations, including Harvard Graduate School of Education, Harvard Medical School, Harvard Business School and The Center for Education Policy Research at Harvard.
Contact: braincofinance@brainco.tech
Source: BrainCo Inc.
Related Media
Additional Links