Hankook NFC's Global Market Entry With a Smartphone-Based Mobile POS Platform
- First public release of "SnappyWire", global mobile POS platform, at MWCA 2018 - Supports various payment methods such as Apple Pay, QR code,
Press Release
-
updated: Sep 11, 2018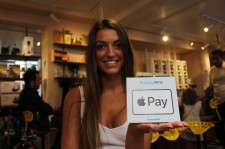 LOS ANGELES, September 11, 2018 (Newswire.com) - NFC will unveil "SnappyWire", a smartphone-based mobile POS platform supporting various payment methods, at MWCA 2018, to be held at the L.A. Convention Center from Sept. 12 to 14, and start official global service.
"SnappyWire", which is available at MWC 2018 in the US, is a mobile POS platform that supports a variety of payment methods such as Apple Pay, QR code, phone2phone payment, social media link payment, IC card payment. It is a mobile POS platform service for the global region starting from the United States.
"SnappyWire" is an easy-to-use mobile POS platform that enables sellers to accept payments using their smartphones on behalf of card terminals by installing an app whenever and wherever they are. The advantage is that it can be used conveniently by small business owners, self-employed people and peer-to-peer transaction.
"SnappyWire" allows an individual or a merchant to take pictures of items to sell and upload its payment links directly via social media such as Facebook, and instantly sell them, without an individual mobile shopping website.
In addition, since it also supports the ability to sell products at a retail store or store and to accept Apple Pay right away through Phone 2 phone payment method. Stores or individuals who must have a separate NFC-enabled POS terminal to accept Apple Pay now can easily accept Apple Pay payments.
In addition, "SnappyWire" supports "EMV Contactless" payment method that can be used when a credit card is just contacted with a smartphone and "EMV IC Reader" payment method that reads IC chip on credit card through IC card reader. In fact, it is a perfect "smartphone-based" payment platform. 
Richard Hwang, CEO of HankookNFC said, "SnappyWire service is an integrated mobile POS platform that supports both Apple Pay and credit card on merchants' smartphone. It is designed to enable individual or self-employed seller to conduct commercial transactions with their smartphone anytime, anywhere. We are partnering with Stripe, a global PG, to ensure security and stability."
HankookNFC established its branch office in the United States in March 2018 for the global service of "SnappyWire". On Sept. 12, it will be launched officially at the MWC Americas 2018. (South Korea is excluded from the target country due to a regulatory issue.)
- MWCA 2018: https://www.mwcamericas.com
It is the largest mobile / mobile exhibition in the world. It is an American exhibition of MWC (Mobile World Congress) which is held every February in Barcelona. It is an event where more than 1,000 companies participate for 3 days from Sept. 12 to 14.
For more information, visit https://www.snappywire.com
Source: Hankook NFC US, inc.
Share:
---
Categories: Information Technology
Tags: Financial Technology, Hankook NFC, HankookNFC, mPOS, Snappywire, Social eCommerce
---
Related Files
Additional Links