Hamel Design Studio Releases the Enchanted Aviary Collection
Original Art, prints, and avian-themed jewelry and bags are made from hand-drawn pastel pieces, hand painted fabric, and original designs. Original pastel pieces reach up to 22" x 28" in size and took over 100 hours each to create.
Press Release
-
updated: Mar 23, 2018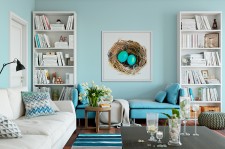 ATTLEBORO, Mass., March 23, 2018 (Newswire.com) - The brand new Enchanted Aviary Collection from Emily Hamel of Hamel Design Studio releases April 2, 2018. 
Known for encouraging women to collect that which they love and find beautiful, Hamel's new line consists of her favorite and most popular bird-themed pieces.
The collection will be exclusively sold on the website www.HamelDesignStudio.com where the limited products are scheduled to sell out by the end of the season.
The Original Art Prints and avian-themed jewelry and bags are designed to showcase spring with color and delicate detail that make women everywhere feel as though they always have a piece of the season with them.
Several products come in bronze, copper, and gold to capitalize on today's trends.
The original art pieces that inspired the collection will also be available, allowing three home curators to snag a unique and genuine piece for their collections.
Her collection also includes a selection of 12 stunning single bird prints that may be mixed and matched to create individualized wall displays.
Each individual piece has its own name. A few examples are: 
$2500 Ethereal Bluebird Original Pastel Art Piece
$150 Vintage Bird Giclee´ 12 Print Collection
$40 Radiant Roost Giclee´Art Print 
$30 Bronzed Feather Tote Bag
$25 Antique Bird Skeleton Cabochon Necklace
The Enchanted Aviary Collection ranges in price from $10 to $2500.
Hamel is excited to welcome her fans to her the new handmade product line collection they've been requesting.
For more information about the Enchanted Aviary Collection or for an interview with Emily Hamel, please write to Emily@HamelDesignStudio.com. Media high-res photos available upon request.
About Hamel Design Studio
Emily Hamel started designing The Enchanted Aviary Collection after drawing custom portraits for over a decade. She wanted to make her art more accessible. After many months of designing, drawing, sewing and creating the collection by hand, Hamel's products started gaining notoriety amongst the artistic community.
Source: Hamel Design Studio
---
Categories: Artists
Tags: Art, Avian, Collection, design, Giclee´, Metallic, New, original, pastel, Spring, vintage
---