Hallandale Beach Hires Its First Female Police Chief From Within Ranks
Sonia Quiñones makes history as First Female Chief
Press Release
-
updated: Sep 20, 2017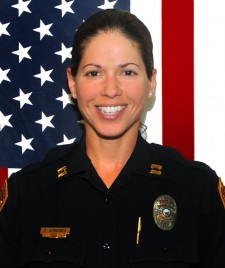 HALLANDALE, Fla., September 20, 2017 (Newswire.com) - Sonia Quiñones will make history in Hallandale Beach in October, when she becomes the city's first female police chief.
Quiñones currently Major of the Hallandale Beach Police Department, was selected from a field of over 60 candidates.
Quiñones has had an extensive 24-year career in the Hallandale Beach Police Department. She started as Road Patrol officer, scaled up the ranks to Sergeant, Captain and was recently promoted to Major in 2015. She also participated in undercover investigations with the Drug Enforcement Administration.
Chief Quiñones has a Master's Degree in Public Administration (2011) and a Bachelor's Degree in Public Administration (2007), both from Barry University. In addition, Chief Quiñones is a graduate of the FBI National Academy in Quantico Virginia (2012). This is a prestigious program offered by the FBI, for law enforcement professionals who seek to enhance their credentials in their field and to raise law enforcement standards, knowledge, and cooperation worldwide.
Quiñones, who is Hispanic-American, will succeed former Hallandale Beach Police Chief Dwayne Flournoy, who will be leaving at the end of this month. Starting Oct. 1, 2017, Quinones will lead an agency of 143 sworn officers and civilian staff. 
"I'm excited to announce a new era in policing for the city," said Quiñones. "I'm very excited and blessed for this amazing opportunity." Quiñones is tasked with promoting further transparency and states she will focus on enhancing public safety, public trust and increasing employee engagement and morale.
According to the U.S Department of Justice, women currently hold roughly 13 percent of law enforcement positions in the U.S.
"She's distinguished herself and has a vision of where our police department needs to go," City Manager Roger M. Carlton states. "She will be respected by the entire police department and she is the best fit for the job."
The new Chief is very respected by the community as well. "Quiñones has the leadership and experience to lead the organization," said Reverend Canon Dr. Ronald N. Fox, Priest-in-Charge of St. Anne's Episcopal Church of Hallandale Beach.
"We congratulate Sonia Quinones on her selection as Chief of the City of Hallandale Beach Police Department," said George L. Piro, Special Agent in Charge, FBI Miami. "Chief Quinones is a graduate of the FBI's National Academy which is among the premier law enforcement training programs in the world. National Academy graduates are proven leaders who return to their police departments and agencies in the U.S. and overseas having participated in a wide range of leadership and specialized training."
Sonia Quiñones is very active in the National Association of Women Law Enforcement Executives (NAWLEE), International Association of Chief's of Police (IACP) and Broward County Chiefs of Police Association. Her community involvement has also received recognition by organizations like the American Business Women's Association. Here are some testimonials:
"It's great to see the selection of S.Q. As the next Chief of the City of HBPD," said Executive Director of the International Association of Chief's of Police, Chief Don De Lucca. "From the first time, I met her, I saw in her the passion and leadership courage to guide a department to reach its fullest potential. Perfect pick."
"Her achievement provides inspiration for others, especially women, who desire leadership roles within law enforcement," stated NAWLEE President & Indianapolis Deputy Chief Val Cunningham.  "We are proud of her accomplishment and her active contributions as a NAWLEE member. Well done!"
"Quiñones is nothing but a true leader and professional," said Broward Chiefs of Police President Chief Thomas Nagy. "We are very happy with her accomplishment and she always represents her city very well. We wish her the very best in this new role."
"We are so delighted to hear of Sonia Quiñones' promotion to Chief of the Hallandale Beach Police Department," said Dr. Andrea Keener, Associate Vice Provost and Dean for Barry University. "As a Barry University alumna and graduate of our Master's in Public Administration, Chief Quiñones will be a transformative leader and serve as the agent for public trust in her community."
The swearing-in ceremony is being coordinated. Further details will be shared via our official Facebook and Twitter media channels.
Media Contact: Greg Chavarria 
Assistant City Manager | 954-457-1351 | gchavarria@cohb.org
Source: City of Hallandale Beach
Share:
---
Categories: Town and City Government, Hispanic, Women's Issues, Diversity, Law Enforcement, Public Safety
Tags: Female Chief, Government, Law Enforcement, Police, Police Chief, Public Safety
---
Related Files
Additional Links