HADA Coin Announces Listing on F1Cryptos Exchange, Partner Michael Buchbinder Offers Full Interview
Press Release
•
updated: Feb 22, 2018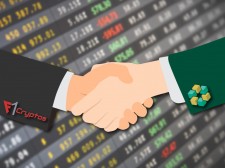 KUALA LUMPUR, Malaysia, February 22, 2018 (Newswire.com) - World's first blockchain-based Islamic bank HADA DBank announced that its Hada coin will be listed on cryptocurrency trading platform F1Cryptos, following their token sale. F1Cryptos partner Michael Buchbinder offered a full interview with Ernest Loh of Hada DBank in regards to the news.
Pioneering blockchain-based Islamic bank HADA DBank have announced that its Hada coin will be listed on Scandinavian owned cryptocurrency trading platform F1Cryptos, following a successful crowd-sale. F1Cryptos partner Michael Buchbinder offered a full Q & A Interview with Hada DBank and Wayne Barker of Bitcoin PR Buzz to discuss the choice and offer his opinion in the market in general. The HADA DBank crowdsale finishes on the 28th of February, 2018.
It is a grab of opportunities in the blockchain world right now and for the pioneering team of HADA DBank, there's never been a more exciting time to impact change to the world by addressing the unbanked population while operating a digital blockchain based Islamic Bank. As the world's first Islamic digital bank continues to grow, they have seized several of the opportunities that have come their way.
When approached by F1Cryptos, who wished to list their Hada Coin on their exchange, Hada DBank made the easy choice to accept the proposal, as both companies share the same vision for blockchain technology and its future place in the world. The digital bank wishes to bring value to their existing customers who own HADA Coin and future valuation of our cryptocurrency. F1Cryptos' team reached out to Hada DBank and exchanged conversations regarding their involvement and opinions. F1Cryptos will be the first exchange to list the Hada Coin token after their pre-ICO finishes.
Head of PR at Hada DBank Ernest Loh (EL) was afforded the following interview with F1Cryptos partner Michael Buchbinder and they discuss the event leading up to the listing, the reasoning behind it, and other general topics in regards to the blockchain community.
EL: The best parts of upcoming companies are always their origin stories. Tell us briefly how it happened, how the team got involved and when did F1Cryptos start picking up momentum?
Michael Buchbinder: "Long before crypto exchanges grew in notoriety, running an FX brokerage and asset management firm was our forte for many years. However, we quickly recognized shifts in the fintech world when it comes to cryptocurrency. We wanted to accept crypto payments from clients to trade with our FX brokerage. Hence, we took a trip to New York to meet several service providers. During our trip, we learned that the technology was a whole exchange. We knew we could take our expertise from the FX industry and bring the best experience to clients in cryptos."
EL: How did you first stumble upon Hada Coin?
"I was having a chat with the president of DE Asset Management Limited, Darrell Emmanuel. As he happens to be one of the advisors for Hada DBank, he made the introduction to Hada Coin and we went on doing more research into them."
EL: We noticed you currently list only world-leading cryptocurrencies, what made you saw potential in Hada Coin to be listed among them?
"From our due diligence, we saw that the idea and business are realistic. In the blockchain space, there aren't many Islamic Digital banks with an intent towards reaching out to the unbanked like Hada. We came to understand their business model brings value in what seems to be a fair and just interaction with the customer. This is where we saw the opportunity if their customer can benefit, the company has potential. They are proving to have all of the right pieces to make their vision a reality."
EL: Where do you see the demographics of cryptocurrency going? According to several publishings and surveys online (Independent, Coindesk, The Merkle), there seems to be a steady trend of a younger crowd hopping onto the platform to trade. Is F1Cryptos making any moves to attract younger audiences?
"Our core is focusing on working with and educating institutions and funds, we also plan on engaging the age demographic between 20-30 that really seem to be embracing blockchain and the new possibilities emerging with cryptocurrencies. We plan on reaching them through social media platforms and other chat groups such as telegram and other avenues they use."
EL: Do you have a set of criteria you go through when you're picking out potential cryptocurrencies to be listed?
"Each cryptocurrency is unique, however, we like to see a viable idea. We believe many have great visions but finding the right balance between a great idea and having the right framework to execute these ideas are just as vital. These are easily the main variables while considering whether to list a cryptocurrency on our exchange."
EL: How will traders see the addition of another cryptocurrency such as Hada Coin in F1Cryptos? Would news like this excite potential traders?
"HADA Coin will appear in the drop-down menu of available trading pairs, for all of our users on our exchange. Our clients are always excited to have premier buying opportunities to get in at the beginning."
EL: SCM is a registered entity with the Swedish Financial Supervisory Authority, hence, giving F1 Cryptos a good standing in establishing itself as safe and trusted crypto exchange platform. How will this affect potential customers and investors of Hada Coin?
"Our long-standing history in the FX space gives us a lot of experience within a similar industry of how to safely run operations. Our origin story stems from FX and we've spent quite a number of years understanding and navigating this industry. We found in the culture that crypto exchanges share somewhat similar customer psychological mindset when it comes to trading."
After Discovering HADA DBank it was clear to the F1Cryptos team that the two companies very much shared the same vision and outlook on what service a digital bank should be providing for its clientele. With F1Cryptos previous long history as an FX brokerage, they are uniquely experienced and positioned to access the potential of HADA DBank, and what its launch could do for the crypto-space. As F1Cryptos platform only currently list the markets strongest and most recognized cryptocurrencies, the fact that they are so confident in HADA Coin is a highly optimistic sign for HADA DBank and bodes very well for their future in the fintech space.
About HADA DBank
Set to revolutionize the world of banking, Hada DBank determines to fuse blockchain technology with Islamic Banking Module. Having recognized the challenges for customers in the current banking state, blockchain technology will ensure security and transparency, while Islamic Banking module will ensure ethical banking and investment.
Hada DBank believes in benefiting and putting customers' interest first, rather than profiting without limit and ethics. Thus – Caring & Personal will be the two words that will be embedded in every aspect of Hada DBank's corporate culture, product, and services.
Hada DBank's Pre-ICO is currently live, with an ongoing flash sale for the first one million tokens going up for sale at 1ETH = 4,000 HADACoin.
Learn more on the Hada DBank website: https://www.hada-dbank.com
Read the Hada DBank Whitepaper: https://drive.google.com/file/d/16nbPwXqjXRRmVKstu1dn4NobywANASkH/view
Chat with the Hada DBank team on Telegram: https://t.me/HADADBank
Follow Hada DBank on Twitter: https://twitter.com/HadaDBank
Follow Hada DBank on Facebook: https://www.facebook.com/hadadbank.official
Discuss with Hada DBank on bitcointalk: https://bitcointalk.org/index.php?topic=2607739.0
Check out Hada DBank on Instagram: https://www.instagram.com/hadadbank
Learn more about Hada DBank on Medium: https://medium.com/@hadadbank
Media Contact
Contact Name: Linda A
Contact Email: cmo@hada-dbank.com
Location: Kuala Lumpur, Malaysia
Company: Hada DBank
Hada DBank is the source of this content. Virtual currency is not legal tender, is not backed by the government, and accounts and value balances are not subject to consumer protections. This press release is for informational purposes only. The information does not constitute investment advice or an offer to invest. The Hada Dbank token sale is closed to US participants and participants of all countries in which ICOs are illegal.
Source: Hada DBank
Tags
Additional Links