Hackaday Announces 2017 Hackaday Prize Winner
2017 Hackaday Prize is awarded to Alex Williams at Hackaday Superconference, Nov. 11
Press Release
-
updated: Nov 21, 2017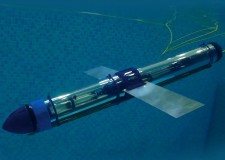 PASADENA, Calif., November 21, 2017 (Newswire.com) - Hackaday names the winner of the 2017 Hackaday Prize, a global engineering initiative, at the Hackaday Superconference on Nov. 11, 2017.
Alex Williams has been named the winner of the 2017 Hackaday Prize with his Open Source Underwater Glider, a versatile autonomous environmental drone using a buoyancy engine. Alex Williams will receive the grand prize of $50,000 and a chance at a residency at the Supplyframe Design Lab in Pasadena, California, to further advance the glider.
The Hackaday Prize calls for engineers, makers and inventors to build something impactful for society with the goal to improve humanity. Top prizes are awarded over five technical challenges. This year's Hackaday Prize received over 1,000 entries during five challenge rounds which asked people to Build Something that Matters. They exemplify the five challenge themes: Design Your Concept; Wheels, Wings & Walkers; Assistive Technologies; Internet of Useful Things and Anything Goes.
"Hackaday has seen over 1,000 incredible projects which aim to change the world by improving health care, environment, security and more. While difficult to determine a winner, one clearly stands out above the rest and is esteemed by the community. We are thrilled to award the Hackaday Prize to Alex William's Underwater Glider, a project that makes long-term underwater exploration possible," says Shulie Tornel, community leader of Hackaday.io.
The 2017 Hackaday Prize is sponsored by Digi-Key, Supplyframe, Microchip and Texas Instruments.

About Hackaday
Hackaday is the world's most popular hardware engineering website.  Our daily posts are the gold-standard in entertainment for engineers and engineering enthusiasts.  
Hackaday is a subsidiary of Supplyframe, the industry network for electronics sourcing solutions. Supplyframe is based in Pasadena, CA USA.  
For more information, please visit Hackaday.com.  
Media Contact:
Katie Huber
Phone: 626.793.7732
Email: khuber@supplyframe.com
Source: Hackaday
---
Categories: High Technology, Computer Engineering, Computer Hardware
Tags: 2017 hackadayprize, engineering, hackaday, hacking, robotics
---