GuitarGrip Launches Signature Jerry Garcia Guitar Hanger Collection
Press Release
•
Feb 13, 2023
Product offering includes guitar hangers in the shape of Jerry Garcia's iconic hand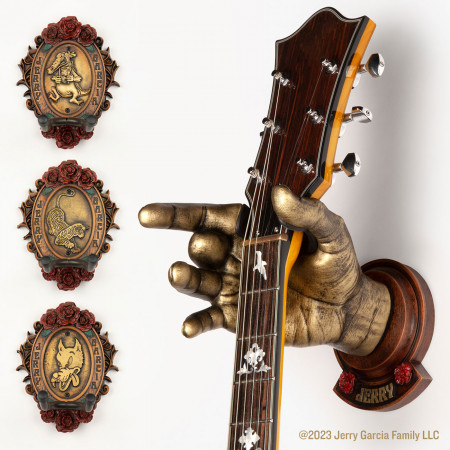 DETROIT, February 13, 2023 (Newswire.com) - GuitarGrip, the globally popular musical accessory company, is excited to announce the launch of their Jerry Garcia collection, an officially licensed line of guitar hangers. Through a partnership with the Jerry Garcia Family LLC and their licensing agent, Epic Rights, this collaboration has been a labor of love.
"We are beyond thrilled - as fans, musicians, and followers of Jerry - to offer these artistic hangers to our amazing customers," shared Mike Ryan, founder of GuitarGrip. "Jerry was one of a kind, and we worked really hard to bring his unique personality and the timeless vibe of his music into this series."
The collection includes a guitar hanger in the shape of Jerry Garcia's iconic hand and four traditional-style instrument hangers inspired by his legendary guitar logos: Alligator, Wolf, Tiger and Rosebud. Each hand-shaped hanger produced comes with a certificate of authenticity and has two options of ornate backplates featuring Jerry's name with rose inlays.
"GuitarGrips has created a beautiful homage to our father! Nearly as exquisite as Jerry's playing, these grips rock," says Trixie Garcia, daughter of Jerry Garcia.
When Garcia was a small child, the middle finger on his right hand was accidentally severed due to a wood-chopping incident while vacationing with his family in the Santa Cruz Mountains. Later, this became a unique signature of his renowned style.
The casted hand was meticulously modeled after his own, including the missing middle digit and unique palm lines. Produced in high-quality resin, the Garcia Grip weighs 2.5 pounds and is steel reinforced through the wrist for sturdy mounting. Each hanger is top coated in a gold metal flake and wood stain with a molded rubber insert that cushions the neck of an instrument.
An antiqued rubbed finish is applied to make all of the details pop, with a final touch of red and green to accentuate the rose petals and leaves on the designs of the piece. Jerry was skilled not only at guitar but banjo as well. Therefore, it seems fitting the collection supports a variety of stringed instruments including banjo, mandolin, and bass guitars.
"It was pretty wild to get a call from the Family's team and find out they wanted to collaborate on this project," continued Ryan. "To be creating these beautiful musical mementos of Jerry, decades after attending my first Dead show, is quite a 'pinch me' moment."
Crafted with stunning artistry, the Garcia Grip is a fantastic design element and functional piece for any musician. Veteran jam band fans, collectors of unique items, and music lovers everywhere can appreciate Garcia every time they pick up their Instrument to shred or play a few licks.
All Garcia guitar hanger models are available for purchase now at guitargrip.com. Prices start at $125 and include backplates. To learn more about the design process and how the collaboration came to be, visit https://guitargrip.com/jerry-garcia
About GuitarGrip
Offering "hand" made products since 2007, GuitarGrip is a family-run business based in Detroit (Rock City), Michigan. The company - a dedicated group of musicians, artists, and entrepreneurs - frames its mission on helping people enhance their individuality and environment through original creations founded in authenticity, functionality, and quality. GuitarGrip specializes in wall-mounted guitar holders that take the form of sculpted, casted, and painted human hands. Sold in over a dozen countries and growing, GuitarGrip offers more than 30 unique guitar hanger designs. www.guitargrip.com.
About Jerry Garcia
Jerry Garcia (1942-1995) created an unparalleled legacy across the American landscape, most notably in his role as a founding member, singer, songwriter, and lead guitarist of the Grateful Dead. Garcia's unmistakable guitar tone enchanted multitudes of "Deadheads" throughout the band's 30-year career and beyond. His work with the Jerry Garcia Band, Old and in the Way, Legion of Mary, Garcia/Grisman, and projects with Merl Saunders, only scratch at the surface of his musical influences, as he set out to master the Great American Songbook. Unequivocally devoted to the craft of music, Garcia continues to inspire future generations through the body of work he has left behind and his creative spirit.
About Epic Rights
Epic Rights is a global merchandise company representing a diverse roster of iconic music artists and brands such as AC/DC, KISS, Aerosmith, David Bowie, John Lennon, Def Leppard, Britney Spears, *NSYNC, and many more. Epic Rights offers a broad range of services, including retail licensing, e-commerce, tour, VIP and fan clubs. For more information, visit: www.epicrights.com.
MEDIA CONTACT:
Scott Robertson, APR
RobertsonComm for GuitarGrip
480-744-5622
scott@robertsoncomm.com
Source: GuitarGrip