Guidance Airway Solutions Teams With Harter Investment Strategies to Transform the Anesthesia Market
Press Release
•
updated: Nov 14, 2017
The future of direct laryngoscopy is a one-step method with multiple benefits.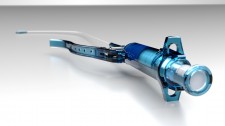 NAPERVILLE, Ill., November 14, 2017 (Newswire.com) - FIRSTLOOK LTA, developed by Guidance Airway Solutions, is a novel, fully disposable device that provides LTA while intubating. This one-step approach has multiple benefits and reduces the potential complications associated with conventional LTA placement.
Harter Investment Strategies, a private equity firm, announced today its majority ownership investment in Guidance Airway Solutions, LLC. The two companies will work together to bring FIRSTLOOK LTA to market.
Designed by Guidance Airway Solutions founder, Dr. Joshua Herskovic, a Chicago-area anesthesiologist with a unique educational background in mechanical engineering, FIRSTLOOK LTA simplifies the two-step process of delivering LTA anesthesia to surgical patients into one.
Herskovic explains, "Every anesthesiologist knows your first look is always your best look. The need to intubate twice exposes the patient to risk. I set out to minimize these risks."
When Herskovic approached Harter Investment Strategies, CEO Thomas F. Harter, Sr. immediately recognized the potential for FIRSTLOOK LTA to transform the way anesthesia is delivered to patients worldwide. Harter also felt a personal connection.
"My father had his epiglottis ripped during a surgery," Harter said. "He couldn't eat or swallow without coughing until the day he died nine years later. When I saw how this product minimizes the risk of damaging the patient, that alone was enough to convince me to get involved."
Other benefits of FIRSTLOOK LTA include faster and easier setup than standard LTA devices, increased compatibility with OSHA guidelines, and does not result in new procedural steps or new practitioner efforts.
Guidance Airway Solutions has filed multiple patent applications around the world and is seeking FDA clearance for the device. Ultimately, the company plans to market the device to hospitals and clinics both in the U.S. and abroad. To learn more about the FIRSTLOOK LTA, Guidance Airway Solutions or Harter Investment Strategies, call 630-544-2000 or visit www.his.biz or www.guidanceairway.com.
About Harter Investment Strategies
Harter Investment Strategies was founded in 2014 by local business leader Thomas F. Harter, Sr. The company provides capital, turnaround expertise and business sale consulting to entrepreneurs, small business owners, boards of directors, and private equity firms. With an outstanding management team that collectively represents more than 100 years of business leadership, Harter Investment Strategies specializes in helping businesses grow to their full potential. To learn more, visit www.his.biz.
If you would like more information about this topic, please contact Thomas F. Harter, Sr. at 630 544 2000 or email at opportunities@his.biz.
Source: Guidance Airway Solutions, LLC.
Related Media