Guestbook Launch Will Shake Up Your Vacation Experience
Press Release
•
Mar 16, 2016
The project is set to expand across the tourism market, nationally and internationally, bringing on new locations, services and features that enthrall guests wherever they may be in the World.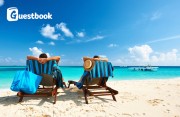 ORLANDO, Fla., March 16, 2016 (Newswire.com) - Bringing joined up services to vacationers, property managers and homeowners, the vacation experience of Guests, Property Managers, Hosts and Homeowners changes dramatically with the release of Guestbook, powered on the web at www.MyGuestbook.com, a free web based tool that enhances the capability of Property Managers and hosts for vacation properties and provides traveling guests with an all encompassing platform to help make memories without the stress of planning. Through connections with some of the Worlds biggest players in the tourist industry Guestbook offers a fun and unique way for guests to plan together and play together.
Guestbook is rolling out in Orlando, Florida, the world's tourism capital, bringing local and international providers of attractions and services to the fingertips of guests from the minute they book their vacation, until they wave goodbye to their most memorable trip so far. The project is set to expand across the tourist market, nationally and internationally, bringing on new locations, services and features that enthrall guests wherever they may be in the World.
Hosts and Property Managers receive a number of dynamic tools available to ensure the guests stay is an all around enhanced experience from the moment they check in, throughout their stay, having local knowledge and purchasing at their fingertips plus a 24/7 connection with their Property Manager or Host through a live chat portal.
Managers and homeowners can easily automate those distracting chores that eat away at their time and energy by having Guestbook cut through those day to day and monotonous tasks, streamlining the productivity of the entire team, with simplicity and ease. Guestbook is compatible with most existing PMS systems and reservation portals and we are adding availability daily to enhance our service and maximize the experience for BOTH Managers and Guests!
Guestbook, changing the way vacations are planned, shared and experienced
David Reilly
Co-Founder Processor
Founder and owner of a UK based Internet hosting and Technical IT Services company for 11 years. Process driven organizer who drives results from new ideas through his approach. He has worked in IT for over 30 years across the fields of training, database, programming and management. David and his wife moved to Florida from the U.K. after purchasing a Vacation Management company and now enjoy the sunshine and challenges on offer.
About Guestbook
Guestbook has grown from identification of the shortcomings of services to vacation guests and the issues faced by property managers. The founders have created a solution that addresses these issues, providing an innovative, supportive platform that enables property managers to complement their Property Management system, make money for managers and create memorable experiences for guests. With a wealth of services and features, the software is a free tool for managers and guests alike. Guestbook is constantly creating new additions to the system to further increase the benefit to everyone using it.
Additional Links