Guardian Jet LLC Adds Expertise to Consulting Team
Press Release
•
Nov 1, 2023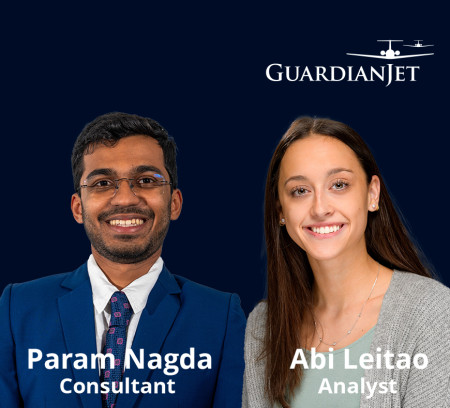 GUILFORD, Conn., November 1, 2023 (Newswire.com) - Guardian Jet, LLC, a leading aircraft consulting, appraisals and brokerage firm, is pleased to announce the addition of consultant Param Nagda and analyst Abigail Leitao to its expanding consulting team.
In their respective roles, Nagda and Leitao will harness their financial expertise to contribute to critical decision-making processes for Guardian Jet clients, including those in Fortune 100 corporate flight departments as well as high-net-worth individuals. Their responsibilities include building comprehensive, five-year business cash-flow models and crafting advanced pro forma financial statements, all aimed at guiding executive leadership to shape the company's strategic future.
Param Nagda brings to Guardian Jet a strong foundation in economics and a passion for data-driven decision-making. He specializes in data analysis, financial planning and operational analysis, particularly in the realm of aviation fleet plans and operational studies. Nagda earned a Bachelor of Science degree in Economics from The Pennsylvania State University in State College, Pennsylvania. He also was a member of the university's tennis team. Following his undergraduate studies, Nagda gained valuable experience as a Client and Growth Analyst at a prominent management consulting firm. Additionally, he pursued dual master's degrees in Sports Management and Business Analytics from the University of New Haven in collaboration with Yale University.
Currently in pursuit of her MBA degree, Abigail Leitao leads the company's annual benchmarking survey, overseeing its creation, distribution, tracking, analysis and reporting. She earned a Bachelor of Science in Finance, with a minor in Data Analytics, from Quinnipiac University's School of Business.
Among other consulting strategic services, Guardian Jet's team will:
Analyze life-cycle costs to determine which aircraft solutions—whole ownership, fractional or charter—make the most financial sense.
Track an aircraft owner's assets in the same way real estate or equities are tracked.
Develop a long-term fleet plan framework to maximize aviation assets in full alignment with an aircraft owner's vision and strategy.
Provide expert insight and aviation data intelligence via Guardian Jet's Market Surveys and a Guardian Estimate™, which is a proprietary aircraft valuation tool that forecasts the sales price of all aircraft on the market, given historical trends.
Calculate an aircraft's Fair Market Value sale price based on its features and history, relative to the current market.
Streamline procurement and selection processes with pre-approved financial guidelines.
Develop and incrementally execute risk-averse and opportunistic strategies.
For more information about Guardian Jet's business aviation consulting services, visit guardianjet.com.
Source: Guardian Jet LLC