GryphTech Welcomes Ryan Green to the Executive Team as Director of Product
Press Release
•
updated: Dec 14, 2020
The former VP of Product for Realtor.com and General Manager for the popular real estate CRM, Top Producer will lend his extensive industry experience to directing the product vision and strategy for GryphTech's portfolio of products.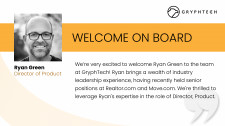 MISSISSAUGA, Ontario, December 7, 2020 (Newswire.com) - GryphTech Inc., a global leader in real estate management solutions, announced today that they have added Ryan Green to the executive team as Director of Product.
Ryan brings over 15 years of leadership experience managing highly effective product teams and launching many successful B2B and B2C products. In Ryan's most recently held position as VP of Product at Realtor.com and General Manager of realtor.com's software division, he was responsible for creating new experiences and platforms for consumers and real estate professionals to work together with the goal of helping more consumers purchase a home. Results included all-time highs for consumer purchase rates and satisfaction as well as strong revenue and software subscriber growth.
"I'm really excited to be joining the team," said Ryan Green "I'm eager to learn more about the international real estate space and partner with our customers to grow their business. I am truly impressed with the capabilities and scale of the GryphTech platform and am excited to continue the journey to service the rapidly changing needs of our customers, consumers and the local markets in which they operate."
"I knew that Ryan would be a great fit from our first conversation," said Carlos Matias, CEO of GryphTech. "Not only was his experience highly relevant to our space, both on the CRM side and of course, as VP of Product for one of the most popular listing portals in the United States, Realtor.com.," Carlos continues, "he also had a very empowering leadership style and solutions focused mindset that I knew would help take our product and team to the next level."
One of Ryan's first projects will be overseeing the roll out of the new and improved iList Agent CRM, a core component of the iConnect platform, used by over 40,000 RE/MAX Agents in over 60 countries and 40 languages.
About GryphTech
GryphTech is a global leader in real estate management technology and the preferred choice of real estate franchise networks around the world. PropTech Solutions Inc., the holding company of GryphTech, was founded by international real estate authority, Carlos Matias. For over 20 years, GryphTech solutions have been deployed to tens of thousands of agents located in 60+ countries and delivered in over 40 languages/currencies. As a long-standing partner of RE/MAX LLC, GryphTech powers the RE/MAX Global website (global.remax.com) with close to 1 million listings from over 110 countries and territories.
Media Contact:
Robert Love
Phone: 647-532-3452
Email: rlove@gryphtech.com
Source: GryphTech