Growing Interest in Telemedicine Leads to Packed House at SPS 2016
Press Release
-
Jun 17, 2016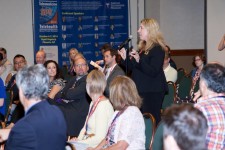 Phoenix, AZ, June 17, 2016 (Newswire.com) - The 2016 Telemedicine & Telehealth Service Provider Showcase (SPS 2016), to be held June 21-11, 2016, in Phoenix, AZ, has attracted 360 registrants so far—a leap of 48 percent over the first SPS conference, held in October 2014. Both conferences were organized by the award-winning Arizona Telemedicine Program (ATP). "The ATP has taken the national lead in advancing partnerships in the clinical telemedicine services arena," said Ronald S. Weinstein, MD, ATP Director. "The greatly increased interest in SPS reflects and stimulates the growing market for telemedicine services and products."  
SPS attendees will be coming from 36 US states as well as from Canada, China, and Poland.
SPS 2016 also will feature 40 exhibitors, including some of the best-known names in the businesses of delivering tele-clinical services and providing the technology to make those services possible. The Expo Hall will be a networking forum for participants to explore a broad array of clinical telemedicine service offerings and models, along with the latest trends in telemedicine technology.
The speakers are nationally recognized telehealth innovators and leaders, including telemedicine program trendsetters; C-suite officers of some of the country's largest health-care companies, mHealth technology companies, and clinical telemedicine service provider companies; health-care investors and consultants; legal, policy, and regulatory experts; company founders; and trailblazing rural hospital CEOs.
SPS 2016 focuses on building partnerships to bring quality medical specialty services directly into hospitals, schools, clinics, private practices, and other organizations through telemedicine. Presentations, panels, and roundtables will offer practical advice and discussion on identifying winning telehealth strategies, succeeding as a tele-clinical service provider, building effective partnerships, creating successful integration approaches, and negotiating regulatory hurdles.
SPS is co-hosted by the Arizona Telemedicine Program, the Southwest Telehealth Resource Center, and the Four Corners Telehealth Consortium. SPS leaders are nationally and internationally renowned experts in the field. Co-chairs Dale C. Alverson, MD, Medical Director of the Center for Telehealth at the University of New Mexico Health Sciences Center, and Elizabeth A. Krupinski, PhD, Director of the Southwest Telehealth Resource Center and Professor and Vice-chair of Research in the Department of Radiology & Imaging Sciences, Emory University, are both past presidents of the American Telemedicine Association (ATA). Honorary Chairs are Jay H. Sanders, MD, President and Chief Executive Officer of The Global Telemedicine Group and Dr. Weinstein, both of whom are Presidents Emeriti of the ATA.
Source: Arizona Telemedicine Program
Share:
---
Categories: Healthcare, Healthcare and Medical Informatics, Healthcare and Medical News
Tags: conference, healthcare, SPS, technology, telehealth, telemedicine
---