Groundbreaking New Book on Private Brands to Debut at the Velocity Conference
Christopher Durham Challenges the History of Private Label with his new book "Vanguard: Vintage Originals"
Press Release
-
updated: Aug 9, 2017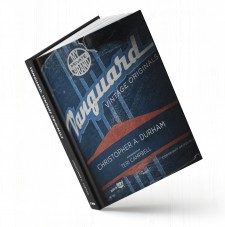 Charlotte, NC, August 9, 2017 (Newswire.com) - Velocity: The My Private Brand Conference attendees will get an exclusive preview of Christopher Durham's latest book on private brand, Vanguard: Vintage Originals before it releases on Amazon on Monday, September 18th. The much-anticipated follow-up book to his bestselling first book Fifty2: The My Private Brand Project, will debut during the conference as Durham presents a look at the innovation, vintage design, and brands that make up the book. Velocity: The My Private Brand Conference will be held in Charlotte, NC on September 14. Immediately following, Durham will host a book signing and exhibit of the vintage packages from the book.
Christopher Durham, author and president of My Private Brand, joins an impressive lineup of more than a dozen retail executive speakers at the conference, including Jack Pestello, senior vice president, private brands, at Walmart; Paul Hunt, vice president, proprietary brands, Petsmart; Chris Demeo, vice president, global channel sales, Staples; Jeff Gamsey, vice president, private brands, Boxed.com, and Adam Golomb, director, own brands and sourcing, Giant Eagle.
"There's a piece of retail history we've been missing because we've all taken it for granted," said Durham. "Traditionally, retailers and the press think the private brand movement began in the 1970s, with generic white packaging. Through this book, I reveal what's been in front of us all this time, and hidden in people's attics: retailers have a long history of innovation and great design."
In this beautiful photographic anthology, Durham goes on to explain that many private brands date back to the early 1800's and either pre date national brands or were their contemporaries, just as big, just as loved. He shares the hidden history, long forgotten. Whether it's showing us retail's earliest groundbreaking brand builders like Sears, Walgreens, Kroger, and A&P, or reminding us that in 1893 Caleb Bradham created Brad's Drink for his drug store, which today we know as Pepsi-Cola, Durham takes us on a journey through the early innovations of a private brand.
With images from acclaimed photographer Teri Campbell, who also shot the photos in Fifty2: The My Private Brand Project, Durham brings to life the collection of more than 100 original vintage private label packages from more than 30 retailers. Conference attendees will have the opportunity to win or buy a copy of this beautiful untold history before it is available to the public when they attend Velocity: The My Private Brand Conference in Charlotte, NC on September 14. Attendees will have the opportunity to speak with the author and photographer Teri Campbell at the book signing. They will also have the opportunity to tour an exhibit of private brand packages Durham collected while writing Vanguard: Vintage Originals.
About My Private Brand
My Private Brand was launched by Christopher Durham in late 2008 the site is the most widely read daily publication on Private Brands in the world. My Private Brand is designed to foster innovation, encourage debate and write the next chapter of brand management – Private Brand Management.
About Christopher Durham
Christopher Durham is the president of My Private Brand and the co-founder of The Vertex Awards. He is a strategist, author, consultant and retailer who built brands at Delhaize-owned Food Lion, and led strategy and brand development for Lowe's Home Improvement. He has consulted with retailers around the world on their private brand strategy including Family Dollar, Petco, Staples, Office Depot, Best Buy, Metro (Canada), TLW (Taiwan) and Hola (Taiwan).
Durham has published five definitive books on private brands, including his first book, Fifty2: The My Private Brand Project. This fall, he will debut his newest book, Vanguard: Vintage Originals, a visual tour of innovation and package design in private brand going back to the mid-1800's.
Durham lives in Charlotte, NC with his wife, Laraine, and two daughters, Olivia and Sarah.
For additional information on private label,  Vanguard: Vintage Originals or to schedule an interview with My Private Brand President Christopher Durham, contact: (704) 654-5502, or email Christopher@mypbrand.com
Source: My Private Brand
Share:
---
Categories: Marketing, Advertising and Public Relations, Business News
Tags: branding, Fresh Direct, package design, private brand, private label, Staples, store brands, vintage, Walmart
---