Groundbreaking Digital-Only News Platform, the Daily Memphian - Finds Their Creative Work Space at CRANE CO. Building of Memphis
Cutler Property Group is pleased to play a part in the important launch of the digital news provider, The Daily Memphian and its owner The Memphis Fourth Estate, with their recent lease in our downtown property.
Press Release
-
updated: Aug 21, 2018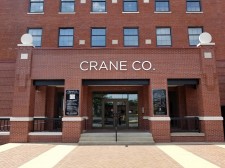 MEMPHIS, Tenn., August 21, 2018 (Newswire.com) - Cutler Property Group announced today it has leased a complete floor of approximately 8,000 sf of space in its 52,000 sq ft multi concept commercial building located at 254 Court Ave. known as CRANE CO. Building in downtown Memphis, Tennessee. Occupancy began Aug. 1.
"It's an honor that The Daily Memphian publishers chose to locate their offices in the CRANE CO. Building," said Adam Cutler, President. "Timing couldn't have been better for us as the space had just been freed up by Hallmark Channel Movie production 'Christmas At Graceland' starring Kellie Pickler. Since December when we began leasing and delivering office space, demand has far exceeded our expectations. Despite a tough downtown office leasing market, we have gone from nearly vacant to almost full in less than a year. We currently have only a few individual offices remaining available along with our 5th floor which will be soon be marketed to the legal community."
"The CRANE CO. building was a great fit for what we're doing at The Daily Memphian," said Eric Barnes, President & Executive Editor. "The building combines collaborative open spaces with privacy needed for reporters and editors to do their work. And combined with the massive renovation of the Hickman Building next door, the flurry of downtown redevelopment is clearly finally reaching this edge of downtown Memphis."
About The Daily Memphian
Frustrated by the gutting of local journalism in Memphis, a group of seasoned journalists, media professionals and concerned citizens gathered to discuss the need for strong, locally focused and locally produced daily news. After much research and outreach to local and national media professionals and thought leaders, Memphis Fourth Estate Inc. was formed. A 501(c)(3) nonprofit, Memphis Fourth Estate owns and operates The Daily Memphian; however, the newsroom operates independently of Memphis Fourth Estate's influence and will not know donor names or pledges.
About CRANE CO. Building of Memphis
The five-story building was built in 1904 for Crane Company as their regional headquarters and is one of Memphis' first fireproof buildings. Recently, it was completely renovated with Class "A" office finishes throughout and is now a multiconcept building with each floor having a unique profile with an art-centric atmosphere featuring stylish brick-wall offices, multi-zone HVAC, building-floor-elevator card access control, security & video monitoring, full fire protection, and private fenced parking. The property is located at Court Ave & 4th Street – one block from the Madison Ave trolley line.
About Cutler Property Group 
The Cutler Property Group is a leading developer and investor in value-add, distressed and early market property opportunities. During its 35-year history, they have purchased and developed more than 1.5M square feet of commercial space in Canada and the USA.  
For further information, please contact:
Adam A. Cutler, President
901-254-8777
a.cutler@254court.com
www.254court.com
Source: Cutler Property Group
---
Categories: Real Estate
Tags: Daily Memphian, Memphis, Office
---