Groff Tractor Assembles New Executive Team
Press Release
•
Jun 20, 2023
Forward-thinking Leadership: New Groff Tractor & Equipment Executive Team Empowers Innovation and Growth!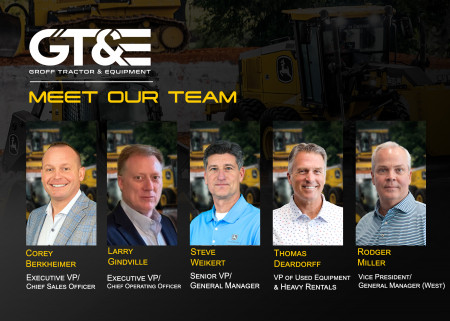 MECHANICSBURG, Pa., June 20, 2023 (Newswire.com) - Groff Tractor & Equipment assembled a new executive team that will lead an extensive, strategic rebranding initiative following the recent acquisition of several John Deere Construction & Forestry locations throughout Pennsylvania.
"With the acquisitions of Plasterer Equipment in Eastern PA & Murphy Tractor branches in Western PA, we have united the world class brands of John Deere & Wirtgen under one roof," said Mike Savastio, President and CEO of Groff Tractor & Equipment. "It was imperative that we put together a great management team to execute our strategy of combining these two brands to ultimately becoming a major player in Pennsylvania."
The acquisition of the John Deere Construction & Forestry locations was a natural next step for Groff Tractor & Equipment. Since 2006, Groff has been a dealer for Wirtgen America, a John Deere company since 2017. Groff Tractor & Equipment has an opportunity to unite two legacy product lines together in the region to further expand the company's footprint and service offerings.
Groff Tractor's presence was expanded to ten John Deere Construction & Forestry locations throughout Pennsylvania following the 2023 acquisition of Murphy Tractor's locations in Delmont and Harmony, and the Plasterer Equipment's four locations in Lebanon, Bethlehem, Sellersville, and Lewisberry.
Groff Tractor & Equipment is proud to announce the appointment of five accomplished leaders to support the company's strategy to offer customers state-of-the-art equipment solutions backed by its best-in-class product support.
Corey Berkheimer has been promoted to Executive Vice President/Chief Sales Officer.
Corey was appointed to his new role on January 1st, 2023. Corey will oversee all Sales, Rental & Marketing operations throughout the 12 Groff Tractor & Equipment branches.
Corey has over 20 years of experience with Groff Tractor & Equipment leading and managing successful sales teams, developing and executing sales strategies, building strong customer relationships, and driving revenue growth.
Corey started as a compact sales representative in 2002, moving into a Key Account Manager role, then Regional Sales Director, and ultimately into the position of Regional VP/GM of Central Pennsylvania.
Larry Gindville has been hired by Groff Tractor to become the new Executive Vice President/Chief Operating Officer.
Larry officially started in November and was promoted to his current position Jan. 1st, 2023. Larry oversees all Parts & Service operations, including the Customer Support Center and all 12 branch facilities.
Larry brings an extensive background to Groff Tractor having been the Corporate Equipment Manager for IT Corporation managing more than 4,000 pieces of equipment covering 42 states in the 1990's, VP of Service and then VP of Sales for the Volvo dealer in Chicago from 2001 -2010, and then VP/GM of a Komatsu & Wirtgen in Midwest managing seven branches over the past 12 years.
Steve Weikert is the Senior Vice President/General Manager who oversees four branches in central Pennsylvania.
Steve has been with Groff Tractor and Equipment for 21 years. He started as a territory sales manager in 2002, moved to sales manager in 2005, and became general manager of Ephrata for several years. He was promoted into the VP/GM role for all aspects of the business within his four locations.
Thomas Deardorff was recently hired by Groff Tractor & Equipment to become the Vice President of Used Equipment & Heavy Rentals.
In this new role, Thomas will grow and expand the used equipment opportunities within Groff Tractor & Equipment's geographical territory, source and acquire more equipment for retail customers for sale and rental and assist in the growth and management of the heavy rental fleet.
Rodger Miller has been hired by Groff Tractor & Equipment to become the Vice President/General Manager of the Western Region. Rodger has a mining engineering degree from the University of Pittsburgh. He has 33 years of general sales experience. In this new VP/GM role, Rodger will oversee all aspects of the business within three locations in Harmony, New Stanton, and Ebensburg.
Groff Tractor & Equipment will maintain its headquarters in Mechanicsburg and will continue to carry and support premium brands such as the WIRTGEN GROUP, Toro, Giant, Terramac, Tana, CBI, LaBounty, Etnyre, Bergmann Americas and more.
Founded in 1958, Groff Tractor & Equipment is a premier heavy equipment dealer serving a broad range of construction markets, including heavy construction, landscaping and general contracting, road building, excavating, forestry, governmental, demolition and material processing. Groff Tractor provides an extremely flexible mix of sales, rentals, parts, and service throughout Pennsylvania.
For more information, please visit www.GroffTractor.com.
Source: Groff Tractor & Equipment