Gritz and Grace Announces the New, Perfectly Practical Collection
Aprons and tool belts made from high-quality fabrics and canvas in the most trendy designs and colors. Some are personalized to create uniqueness.
Press Release
-
updated: May 8, 2018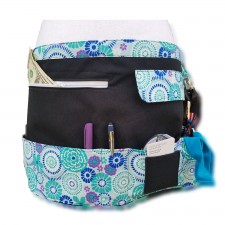 RATHDRUM, Idaho, May 8, 2018 (Newswire.com) - Designer, Christina, from Gritz and Grace is releasing the brand new Perfectly Practical Collection, and each product will be individually made by the designer herself. The Perfectly Practical Collection will be released on June 6, 2018.
Gritz and Grace is known for helping women so they can be proud and be their best.
Thus, for the first time, Christina has created an entire product line of her favorite and most popular aprons. The new Perfect Practical Collection is scheduled to go live on June 6, 2018.
The collection will be exclusively sold on the website, gritzandgrace.com where the limited products are scheduled to sell out by the end of the season.
These aprons and tool belts are designed to showcase how being practical and working hard can be fun and that makes women and children feel as though they are building their dreams.
Several products come in Turquoise to capitalize on today's trends.
Some aprons are made from gorgeous prints, which makes women and kids feel special and will be able to still utilize all aspects of them while doing their work.
Her collection also includes tool belts for the kids to bring out their own creativity.
Each individual Apron has its own name. A few examples are:
•   Painters Pallet
•   Girls Love Tools Too
•   Vendors Helper
•   Gardening Therapy
Perfectly Practical Collection ranges in price from $24.99 to $59.99.
Christina is excited to welcome her fans to the new handmade product line collection they've been requesting.
For more information about Perfectly Practical Collection, or for an interview with Christina, please write to Christina@gritzandgrace.com. Media high-res photos available upon request.
About Gritz and Grace
Christina started designing shirts and aprons after she was faced with a very real problem. Working with her husband or in her garden required more hands and pockets then she had. After many months of creating aprons by hand, Christina's products started gaining popularity amongst the local gardening and farming industry.
https://www.gritzandgrace.com
Source: Gritz and Grace
---
Categories: Small Business
Tags: aprons, artist apron, Craft Apron, egg apron, gardening, kids toolbelt, Small Business
---