Griddable.io Announces Hybrid Cloud Data Portability for VMware Cloud on AWS
SaaS platform provides customers with synchronized data integration for enterprise workloads
Press Release
-
updated: Mar 7, 2018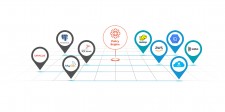 SAN JOSE, Calif., March 7, 2018 (Newswire.com) - ​​Griddable.io, the industry's first smart-grid for enterprise data, today announced its SaaS platform for hybrid cloud data portability is available to customers of VMware Cloud™ on AWS. VMware Cloud on AWS brings together VMware's enterprise-class Software-Defined Data Center (SDDC) software and elastic, bare-metal infrastructure from Amazon Web Services (AWS) to give organizations consistent operating model and application mobility for private and public cloud. Griddable.io enables Oracle and mySQL database migration, re-factoring for cloud-first architectures, and data synchronization with cloud innovation projects to customers of VMware Cloud on AWS.
Griddable.io's smart grid platform delivers synchronized data integration across hybrid clouds. Features include: 
A resilient cloud-first grid architecture that supports any topology and heterogeneous database which installs easily on existing change capture logs 
Intelligent in-line grid services that connect end-points and selectively filter, mask, or transform data while guaranteeing transaction consistency  
Flexible grid policies that are easy to setup & change using a declarative policy language, eliminating the need for complex custom coding or highly specialized expertise across a myriad of single function tools 
"We are excited to support VMware Cloud on AWS with the griddable.io SaaS platform," says Robin Purohit, CEO of griddable.io. "Enterprise customers have embraced hybrid cloud as the new IT reality with Oracle workload migration and data synchronization as a top priority. Griddable.io brings an easy to use, policy-based approach to synchronized data integration that complements VMware's enterprise-class software-defined data center software."
VMware Cloud on AWS technology partners enable customers to deploy the same proven solutions seamlessly in both the public and private cloud. VMware simplifies the deployment and eliminates the need for partners to refactor solutions for VMware Cloud on AWS. If a partner solution works on-premises in a VMware vSphere® environment, it will easily support VMware Cloud on AWS. VMware technology partners complement and enhance native VMware Cloud on AWS service and enable customers to realize new capabilities.
"VMware Cloud on AWS provides customers a seamlessly integrated hybrid cloud offering that gives customers the SDDC experience from the leader in private cloud, running on the leading public cloud provider, AWS," said Mark Lohmeyer, vice president and general manager, Cloud Provider Unit, VMware. "Solutions such as Griddable.io's SaaS platform for hybrid cloud data portability enable IT teams to reduce cost, increase efficiency, and create operational consistency across cloud environments. We're excited to work with partners such as Griddable.io to enhance native VMware Cloud on AWS capabilities and empower customers with flexibility and choice in solutions that can drive business value."
About VMware Cloud on AWS
Delivered, sold and supported by VMware as an on-demand service, and running on elastic, bare-metal AWS infrastructure, VMware Cloud on AWS is powered by VMware Cloud Foundation™, the unified SDDC platform that integrates vSphere, VMware vSAN™ and VMware NSX® virtualization technologies. With the same architecture and operational experience on-premises and in the cloud, IT teams can quickly derive business value from use of the AWS and VMware hybrid cloud experience. For more information on the VMware Cloud on AWS partner ecosystem, visit: http://cloud.vmware.com/vmc-aws
About Griddable.io
Griddable.io is a San Jose, California-based SaaS startup that closed Series A funding in 2017 from August Capital, Artiman Ventures, and Carsten Thoma, founding CEO of Hybris (acquired by SAP). The company is disrupting the $15B integration software market by addressing the new needs of digital businesses to synchronize more data in more places across more platforms at ever increasing speed while ensuring data security and privacy. Griddable.io is now shipping the industry's first smart grid for enterprise data with policy-based services to define DB type, topology, filters, transformations, and masking. The product helps CIOs automate hybrid cloud migration and operation, build real-time applications with continuously up-to-date trusted data, and synchronize core operations with edge computing.
VMware, VMware Cloud, vSphere, Cloud Foundation, vSAN, and NSX are registered trademarks or trademarks of VMware, Inc. in the United States and other jurisdictions.
Media Contact(s):
Jennifer Stern
​Email: jennifer.stern@griddable.io
Source: Griddable.io
---
Categories: Computer Software
Tags: AWS, cloud, data integration, data synchronization, hybrid cloud, SDDC, software defined data center, VMware Cloud
---