Grenada CBI in Collaboration With Caribben Trust Immigration Services
Press Release
•
Apr 25, 2016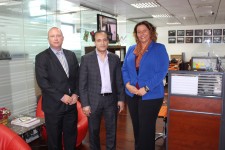 Dubai, April 25, 2016 (Newswire.com) - The independent island nation of Grenada relaunched their Citizenship by Investment Program last August, 2013 under the Citizenship by Investment Act of 2013, this program aims to increase the economic growth through inward investment.
Grenada CBI Chairman Mr. David Holukoff and Hon. Alexandra Otway-Noel, Minister of Tourism, Civil Aviation & Culture, collaborated with Dr. Aly El Dakroury CEO of CTrustGlobal, to market the Grenada Citizenship by Investment Program at a meeting held in CTrustGlobal Dubai office.
Apparently, the global marketing effort executed by the company is being trusted by most of the multi-millionaire Middle Easterners. CTrustGlobal manage different CBI all over the Caribbean Island Countries and well-known in terms of efficiency and accuracy in processing the application which leads to a high standard marketing approach. The ability of the company in sending vast numbers of investors defines its success and stability in every CBI programs.
Grenada CBI Team put the biggest trust to CTrustGlobal in advertising and promoting their Citizenship by Investment program to multiply the number of investors for the economic growth in the country.
Like any other CBI, this program offers visa-free travel, zero tax in business development and strict due diligence process. But what makes CBI in Grenada differs from other programs is that it offers Chinese Visa waiver, which enables the investors to travel visa-free to China. The career growth in business industry can be easily started in Grenada as it provides US E2 visa opportunity and Chinese Visa Waiver. This will allows business men and their families to travel, relax, study and have business in a wonderful paradise situated in the Eastern Caribbean Island—Grenada.
Source: CTrustGlobal| Caribbean Trust Immigration Services
Related Media
Tags
Additional Links