Green Gorilla Launches Equine Care Line of Pure CBD Oil
Press Release
•
updated: Apr 26, 2018
Leading manufacturer and brand of pure, natural and USDA certified-organic CBD products now offers CBD supplement for horses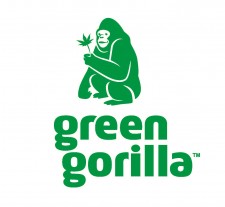 LOS ANGELES, April 26, 2018 (Newswire.com) - Green Gorilla™, a leading manufacturer and brand of cannabidiol (CBD) products, has added three equine care products to its flagship Hemp & Olive™ line of pure CBD oils.
The equine care products are available in 3000mg and 7500mg concentrations which are packaged in 2fl oz. (60ml) bottles, and 750mg which is packaged in a 1 oz. (30ml) bottle. The products are made with 99%+ pure CBD extract sourced from non-GMO organically grown hemp and craft-blended with a polyphenol and anti-oxidant rich certified organic extra-virgin olive oil, making them the most bio-available CBD products in the marketplace. The 750mg retails for $99.99; 3000mg, $279.99; and 7500mg, $599.99.
Green Gorilla's Equine CBD line is a natural supplement designed to play a key role in keeping horses healthy, looking good and performing their best. Green Gorilla™ Hemp & Olive™ CBD oil products support healthy skin, joints and immune systems as well as ease the discomfort of fatigued muscles, stiff joints and arthritis pain.
Like humans, horses have an endocannabinoid system (EDS) and cannabinoid receptors (CB1 and CB2) that help regulate a wide range of bodily functions in the equine, including pain relief, inflammation, gastrointestinal disorders, mood and more. Enhancing a horse's endocannabinoid system with CBD enables horses to better control inflammatory responses using their own internal mechanisms.
Green Gorilla™ also offers a line of CBD products for pets that are available in concentrations of 150mg ($25.99/1 oz. bottle), 600mg (2 oz. bottle, $84.99), 1500mg (2 oz. bottle, $149.99) and 3000mg (2 oz. bottle, $279.99).
Third-party lab tests of Green Gorilla™ CBD products are available at ILoveGreenGorilla.com/science.
Green Gorilla™ pure CBD products are USDA NOP certified organic, non-GMO, vegan, paleo, gluten-free, sugar-free and THC-free. The products are formulated with organic 99+ percent pure cannabidiol along with GG BioEnhanced Complex™, Green Gorilla's proprietary blend of certified organic botanicals, herbals and essential oils to further optimize bioavailability. The products are then crafted with certified organic extra-virgin olive oil with some of the highest polyphenol counts making it an optimal courier for the CBD. The product line includes supplements, pet care, horse care and lip balms.
Green Gorilla™ is an international brand in the hemp and cannabis industries and a leading manufacturer of cannabidiol (CBD) organic supplements, topical, pet and horse care products using GG BioEnhanced Complex™ for the highest bioavailability. The company markets its supplements and topical products under the brand Hemp & Olive™ and its organic biodynamic agricultural products for the cannabis industry under the Master Grower™ brand. Green Gorilla™ was established in 2013 by founder Steven Saxton. Green Gorilla™ products are sold at more than 850 retailers in the U.S. and online. More information is available at ILoveGreenGorilla.com, Twitter: @GreenGorillaInc, Instagram: @GreenGorilla, Facebook: /ILoveGreenGorilla, GreenGorilla.com.br (Brazil), GreenGorilla.ca (Canada) and Mastergrower.pro. Third-party lab tests of Green Gorilla™ CBD products are available at ILoveGreenGorilla.com/science. The company is based in Los Angeles, California.
Note to media: Images are available for download at HonigCompany.com/media.
FORWARD-LOOKING STATEMENTS: This press release may contain certain forward-looking statements within the meaning of Section 27A of the Securities Act of 1933, as amended, and Section 21E of the Securities Exchange Act of 1934, as amended. Readers are cautioned that all forward-looking statements contained herein are reasonable, any assumption could be inaccurate and therefore, there can be no assurance that the forward-looking statements included in this press release will prove to be accurate. In light of the significant uncertainties inherent in the forward-looking statements included herein, the inclusion should not be regarded as a representation by the Company or any other person that the objectives and plans of the Company will be achieved.
Contact: Steve Honig, The Honig Company, LLC, 818-986-4300, press@honigllc.com
Source: Green Gorilla Inc.
Related Media