Green Boy Group Opens New Office in Chicago Led by Thomas Smit
Press Release
•
Feb 9, 2023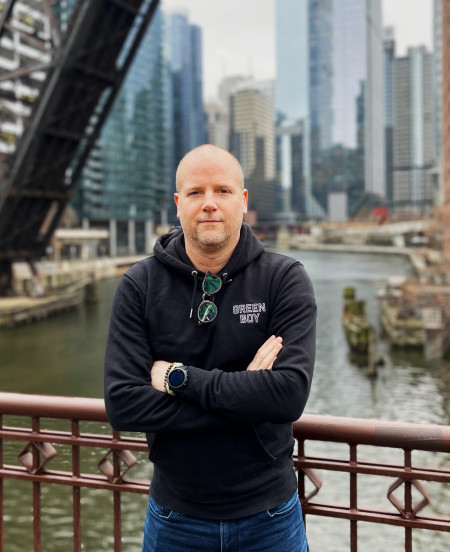 LOS ANGELES, February 9, 2023 (Newswire.com) - Green Boy Group, a global supplier of plant-based, non-GMO, and organic food ingredients, has appointed Thomas Smit as head of their new office in Chicago.
"We couldn't have hoped for a better way to start the new year than being finally able to announce the opening of our Chicago office," says Peter van Dijken, Green Boy Co-Founder and Owner. "Especially since Chicago is a city so dear to our hearts and a major natural food hub in the US. Since a lot of our customers are located in the Midwest, it was a logical next step. Now we'll be able to even better serve their needs."
"It took about three years to get this office ready to go," Frederik Otten, Green Boy Co-Founder and Owner, elaborates. "Mostly because we wanted the right person to lead the Green Boy Chicago office. Our eyes were set on Thomas Smit for a while, a food industry veteran with more than a decade of experience in supplying plant-based food ingredients. Thomas is a burst of positive energy and has a proven track record of successfully building up and managing a new office in Chicago.
Thomas Smit's career started at Nidera in 2013 in Amsterdam, The Netherlands, where he focused on supplying plant-based food ingredients globally. In 2016 Thomas joined Royal Ingredients and moved over to Chicago to start their new office in the role of managing director. BayWa acquired Royal Ingredients in 2018 due to the growth of its sales in the U.S. market.
"I am grateful for my time at Royal, where I gained a lot of experience on how to start, run and expand an office in a market that is constantly evolving," says Thomas Smit, "but when Green Boy approached me to head their new office in Chicago, I was getting very excited. Green Boy's vision to reform the food industry via their functional plant-based proteins, such as Plant-Meat Protein™ and Plant-Dairy Protein™, really resonated with me. Their approach to the market is unique; Green Boy has a B2B as well as a B2C business, houses an extensive food research lab in Los Angeles, and works with interesting collaborators such as universities and industry-relevant organizations. The company also has big plans for the future, and I wanted to play a substantive role in their ongoing expansion in the U.S."
Green Boy, founded in 2016 by Frederik Otten and Peter van Dijken, is a worldwide supplier of plant-based non-GMO and organic food ingredients with a specialization in supplying functional plant-based proteins. Green Boy has offices in Los Angeles, Amsterdam, Hong Kong, Sydney, and Chicago. Learn more about Green Boy at https://www.greenboy.com.
Thomas Smit is reachable via thomas@greenboy.com or +1 (773) 560-6924.
Source: Green Boy Group