Greek Scientologists Bring Truth About Drugs to Athens
Press Release
•
updated: Feb 2, 2017
Sharing vital drug prevention with the people of their country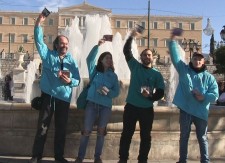 Athens, Greece, February 2, 2017 (Newswire.com) - Volunteers from the Church of Scientology Athens gathered in the city's famous Syntagma Square to raise awareness of the dangers of drugs and promote drug-free living. They held a drug prevention rally where they passed out thousands of copies of the Truth About Drugs booklets.
Europol and the United Nations Office on Drugs and Crime (UNODC) have identified Greece as a central hub on the drug route connecting Afghanistan with its biggest markets in Western Europe. An estimated 60–65 tons of the opiates make their way through Southeast Europe every year, and in 2011–12, 67 percent of the overall heroin seizures in the Balkans were in Bulgaria and Greece.
HIV cases increased 60 percent in Greece between 2010 and 2012, at least in part caused by injected drug use.
With the country crippled by a seven-year financial crisis, drug education holds another incentive. The UNODC states that every dollar spent on prevention can save governments up to $10 in later costs.
The Foundation for a Drug-Free World is one of the humanitarian programs supported by Scientologists and the Church of Scientology. The Church makes the Foundation's Truth About Drugs materials available free of charge for anyone wishing to use them to help raise awareness on the dangers of drugs. In his research, Scientology Founder L. Ron Hubbard discovered that "the single most destructive element present in our current culture is drugs."
Read the article on the Scientology Newsroom.
Source: Church of Scientology Athens
Related Media