Great Grandma Escape Set to Make a Splash on iOS
IAM 4 Laughs & Giggles LLC'S new mobile, GGX- Great Grandma Escape game, is live and free-to-play on iOS phones right now. Here's everything you need to know before you get started.
Press Release
-
updated: Sep 14, 2016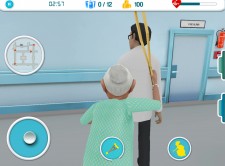 Brooklyn,NY, September 12, 2016 (Newswire.com) - IAM 4 Laughs & Giggles LLC has announced its stealth adventure game, "Great Grandma Escape" for iOS smartphones. The game is available internationally.
STORYLINE: You play as Granny, a very strong and family-oriented old lady who is placed into the hospital for observational purposes. She decides to attempt to escape the hospital in order to make it to her grandchild's birthday party. As the player, you have to take the Granny through the several levels of the hospital, sneak past doctors, nurses, infected patients and security guards to escape the hospital.
"We built great grandma escape from the ground up to take full advantage of advanced technology," said Idris Mortley, Founder of GGX- Great Grandma Escape"
 
HIGHLIGHTS:
1. The game environment, props, UI elements, characters, Al and enemies are designed and rendered in 3D. The look and feel of each design element is similar to a generic hospital set up.
2. Game Hero's Capabilities
3. Puzzle Features
4. Four Stage Levels
5. Inventory Item List - Items such as weapons/abilities, time extenders, coins, pills,  etc.
6. Hear environmental audio effects, including reverb, and other effects adapted to each area
7. Experience musically synchronized gameplay, with music changing to suit each level
8. Sign into Game Center to climb the leaderboard, compare scores with friends
Availability and System Requirements: 
Great Grandma Escape requires iOS 7.0 or later. Compatible with iPhone, iPad, and iPod touch.
Check out the launch trailer to see GGX in action and download it today free on the App Store.
Apple Store Link: https://itunes.apple.com/us/app/ggx-great-grandma-escape/id1059643261?mt=8
Learn more about Great Grandma Escape at http://www.greatgrandmaescape.com or visit us at https://www.facebook.com/GGXGreatGrandmaEscape1 and https://twitter.com/GGXGreatGrandma
About Idris Mortley:
Idris Mortley is a CEO of IAM 4 Laughs & Giggles LLC. His aim is to provide a unique mobile game experience and provide a new level of entertainment for the world. 
Source: IAM 4 Laughs & Giggles LLC.
Share:
---
Categories: Video Games, Entertainment, Games and Play
Tags: 3D game, adventure, funny game, ggx, great grandma escape, ios game, ipad game, iphone game, stealth game
---