Grassroots Statewide Coalition Kickoff Historic Voter Drive in Mississippi This Weekend
Press Release
-
updated: Nov 23, 2018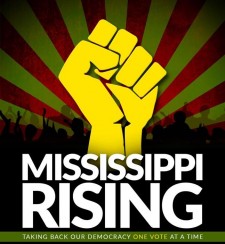 JACKSON, Miss., November 23, 2018 (Newswire.com) - Thousands of Mississippians will have more than shopping on their minds this Black Friday as they gather across the state for a historic drive to get out the vote. The drive is being coordinated by dozens of organizations and faith-based communities as part of a statewide coalition called Mississippi (MS) Rising.
"We are so proud to be kicking off the Central Mississippi drive at the historic M.W. Stringer Masonic Temple this Saturday," says LaTosha Brown, co-director of Black Voters Matter and an organizer of the statewide drive. "More than a century of Black organizing has happened within these walls. Fannie Lou Hamer and others organized major voter drives and launched the Mississippi Freedom Democratic Party right here in this building. MS Rising draws upon this powerful legacy as we stand for our right to full participation in the decisions that affect our lives."
The canvass is expected to draw thousands of young people due in no small part to the work of MS Votes director Arekia Bennett who is also part of MS Rising's leadership. "As young people, we have a real stake in this election. We are inspired by the history – and by our power to shape the future. We care about the economy, about education, about everything that affects our future. We are here and we will be heard."
Rukia Lumumba, co-leader of the Movement 4 Black Lives Electoral Justice Project, another anchor organization in the coalition, sees this effort as part of a longer-term strategy for making Mississippi a more democratic and participatory place. "My father, the late Jackson Mayor Chokwe Lumumba, had a vision of the entire state becoming a place that was known for its democratic principles and participatory governance. For more than a century, Mississippi was known as a place that disenfranchised large numbers of its residents and privileged some residents' voice and power over others. We are organizing for a new Mississippi where all residents have voice, where all residents are heard. Mississippi Rising is what democracy is all about."
Black Voters Matter will be moving through the state in its distinctive GOTV bus supporting the canvass with special events statewide. Dr. William Barber, co-director of the Poor People's Campaign, is among the special guests joining the tour this week.
Many of these events will include community food shares featuring produce from Black farmers – a feature that Carol Blackmon, a coalition leader from the Southern Rural Black Women's Initiative and CB Enterprises, applauds. "I'm so proud that Mississippi Rising will be partnering with Black farmers to support this vitally important part of our state's economy," says Blackmon. "Together we are helping more Mississippians access fresh foods and critical voter information." 
On Sunday, faith-based communities will participate in the coalition's Souls to the Polls events to promote voter education and awareness.
For more information on the weekend's events or to join the bus tour media corps, please contact Iya H. Omobola at nasmai.jackson@gmail.com. If you are an organization or faith-based institution wanting more information on how to get involved with MS Rising, please visit us online.
Our Partners
ACLU of Mississippi, Black Women's Roundtable — MS, Indivisible No More, Malcolm X Grassroots Movement — MS, Mississippi Rising Coalition, MS Move, MS Votes, MS Poor People's Campaign, MS Rising Coalition, Mississippi Conference NAACP, One Voice, People's Advocacy Institute, X the X, Southern Echo, Black Voters Matter, Electoral Justice Project, Movement for Black Lives Action Fund, Red to Blue, Working Families Party
######
MEDIA CONTACT: Iya H. Omobola Mobile: (601) 885-3240 Email: nasmai.jackson@gmail.com
Source: Mississippi Rising Coalition
Share:
---
Categories: Elections
Tags: Black Voters Matter, Civic Engagement, Civil Rights, Elections, Mississippi, Runoff, Voting
---